The team created maps based around different daily themes for a social mapping project happening every November. It was great to see what ideas they came up with for the various topics each day.
📅 Day 1: Points by Ilya Ilyankou
Britain's top 5 Retail Points Grocery Chains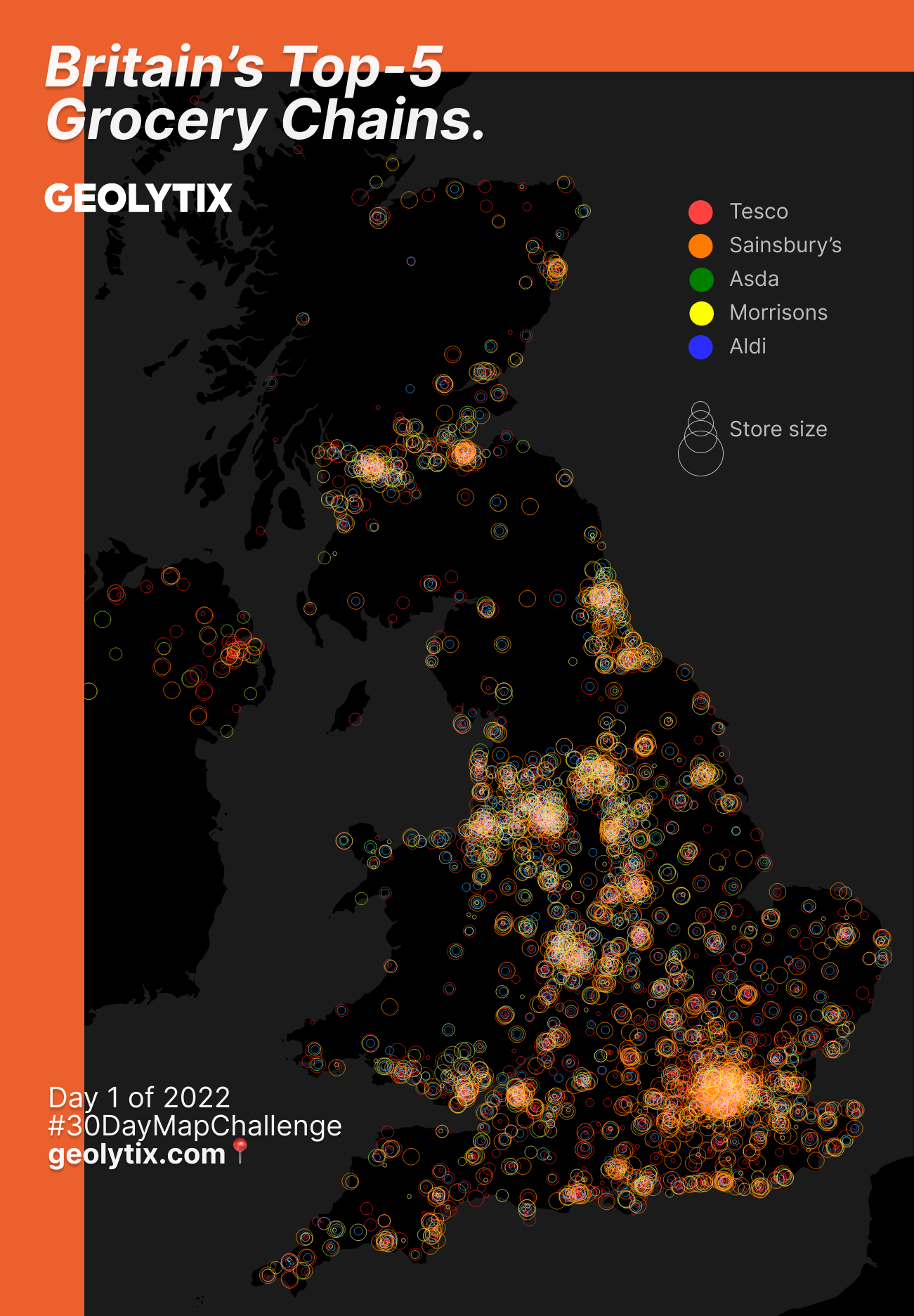 📅 Day 2: Lines by Jasmin Fitzpatrick
Road Traffic in and around the M25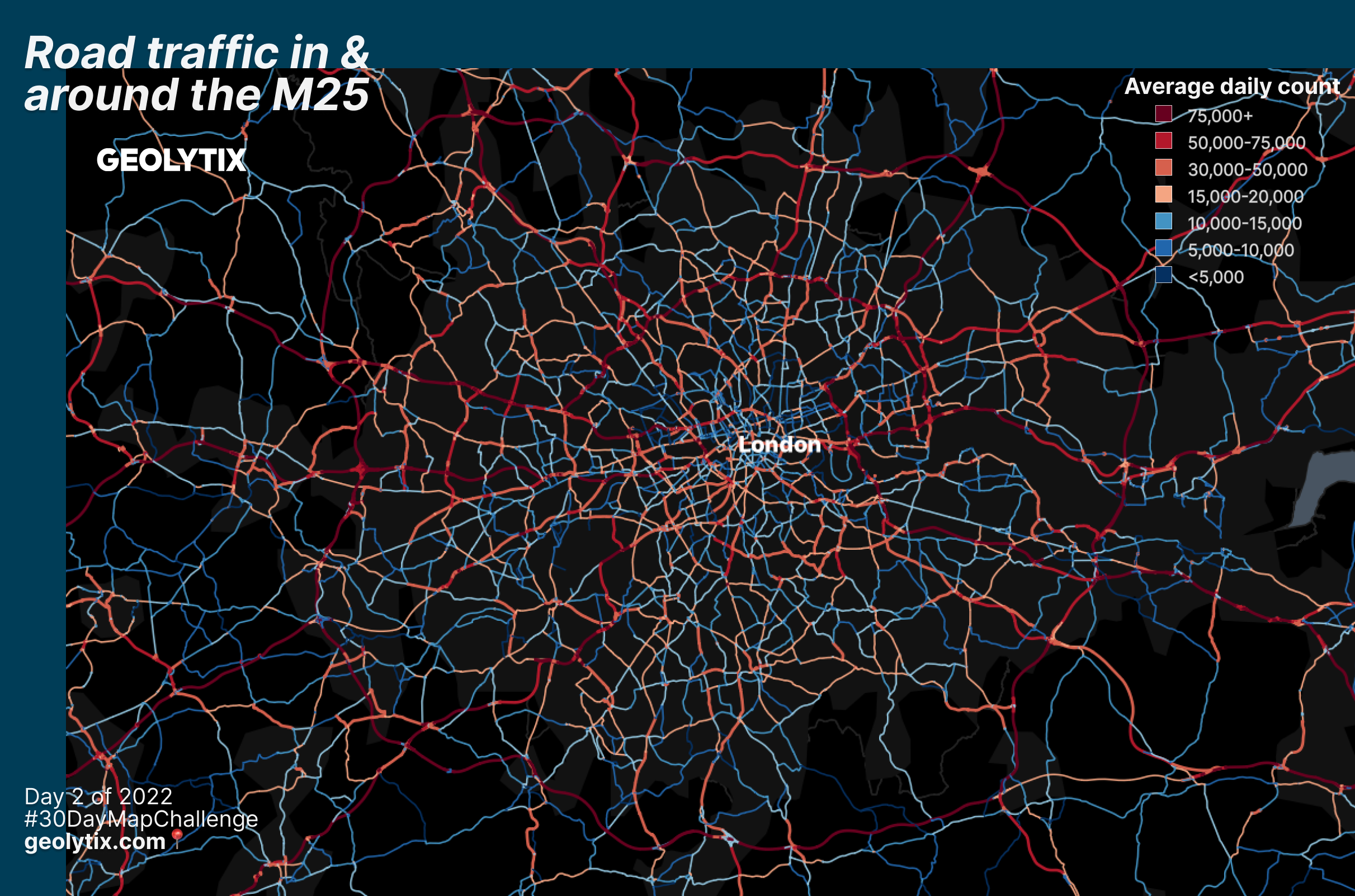 📅 Day 3: Polygons by Simon Leech
Retail Place estimated units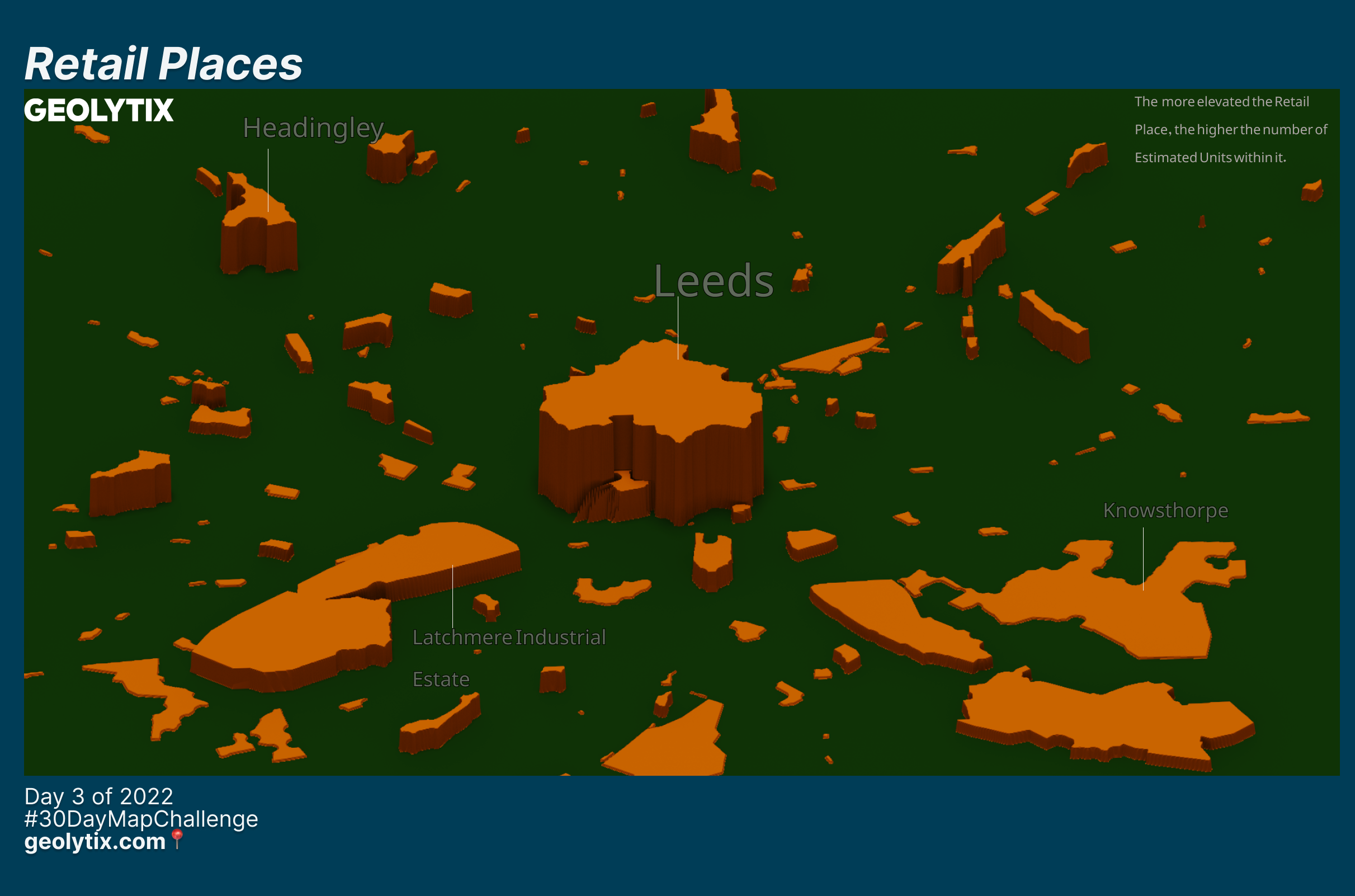 📅 Day 4: Green Friday by Louise Cross
National Parks and Green Spaces in the Great Britain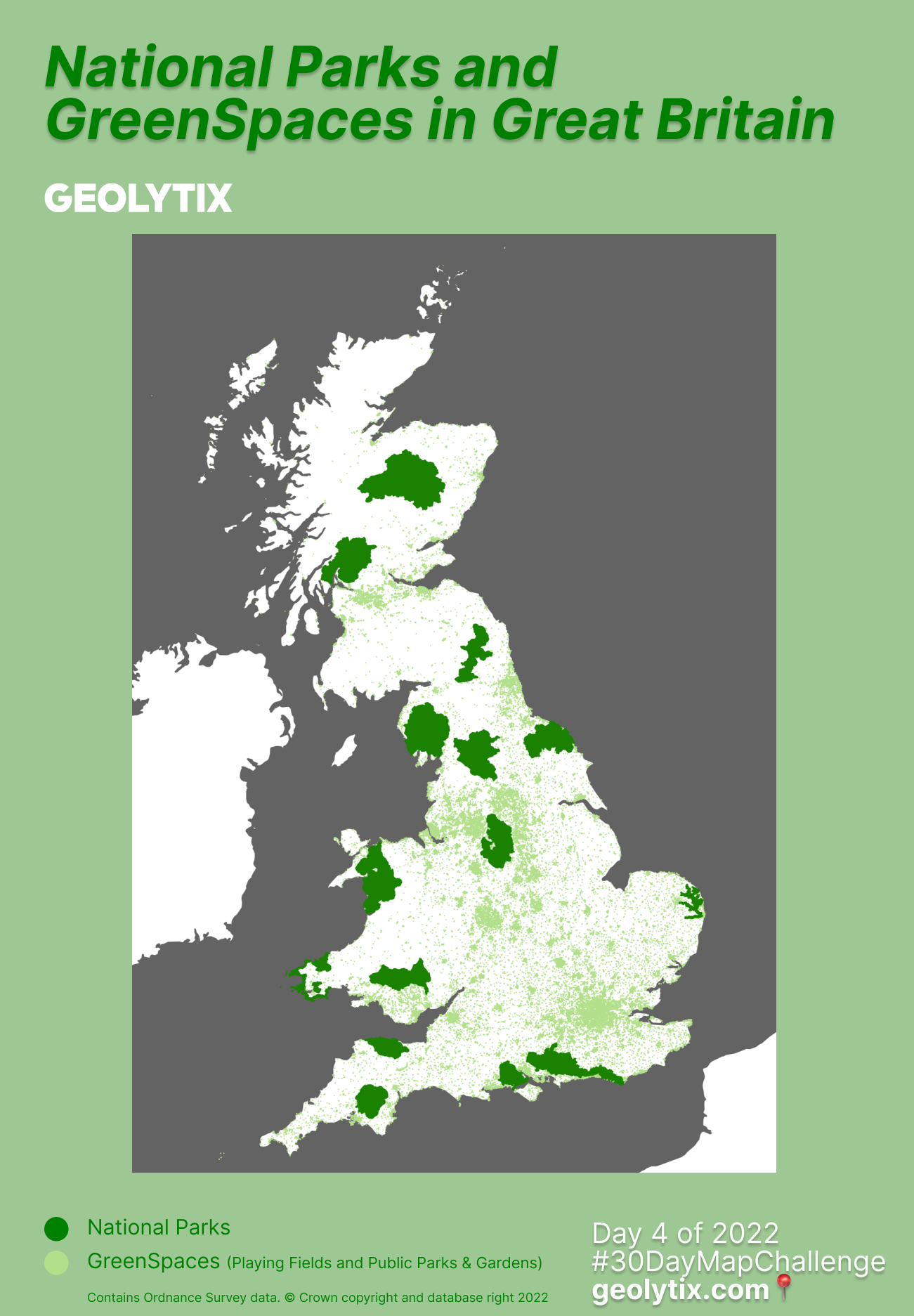 📅 Day 5: Ukraine by Christopher Storey
Subjective mapping - fleeing Ukraine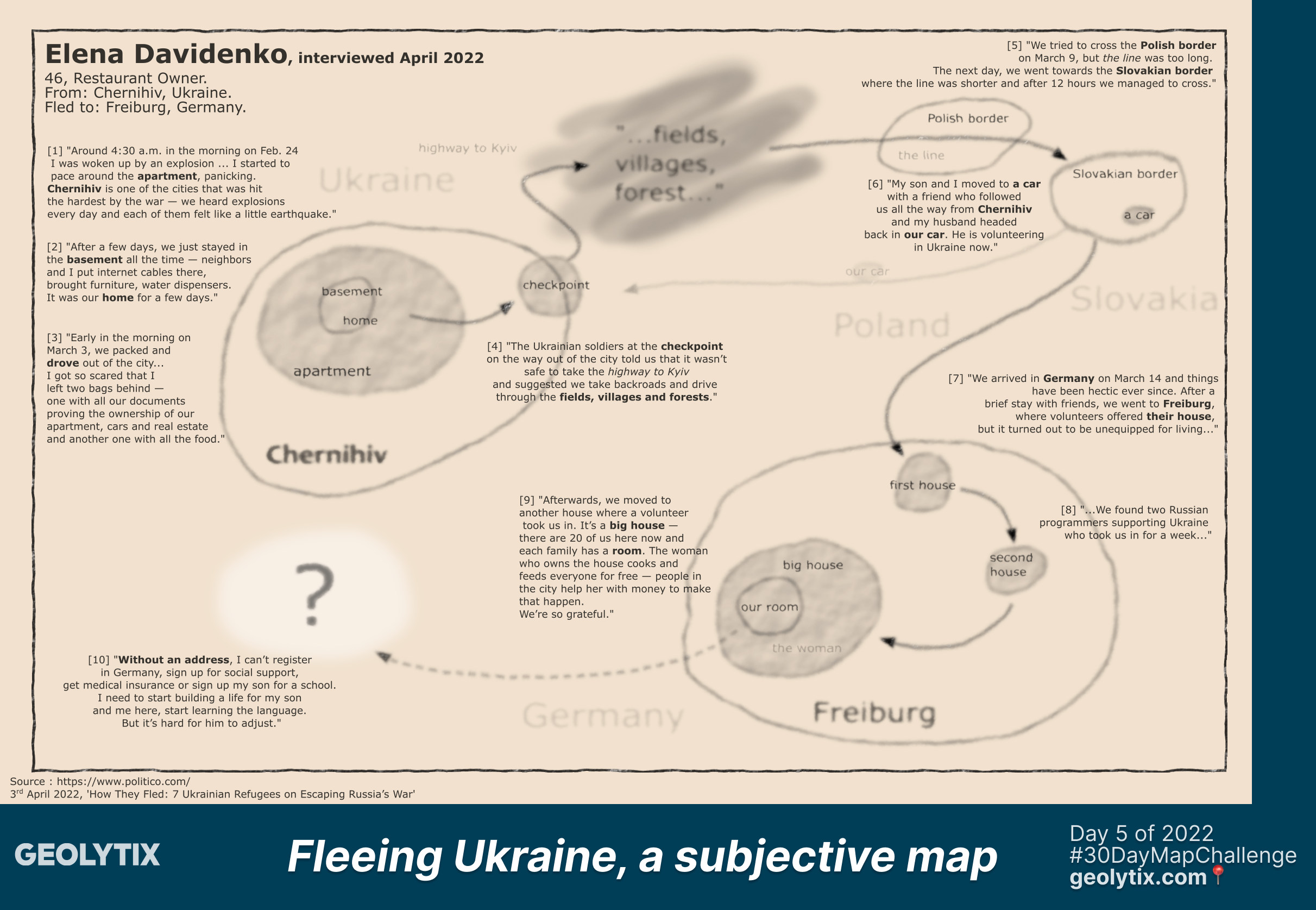 📅 Day 6: Network by Louise Cross
Rail lines into London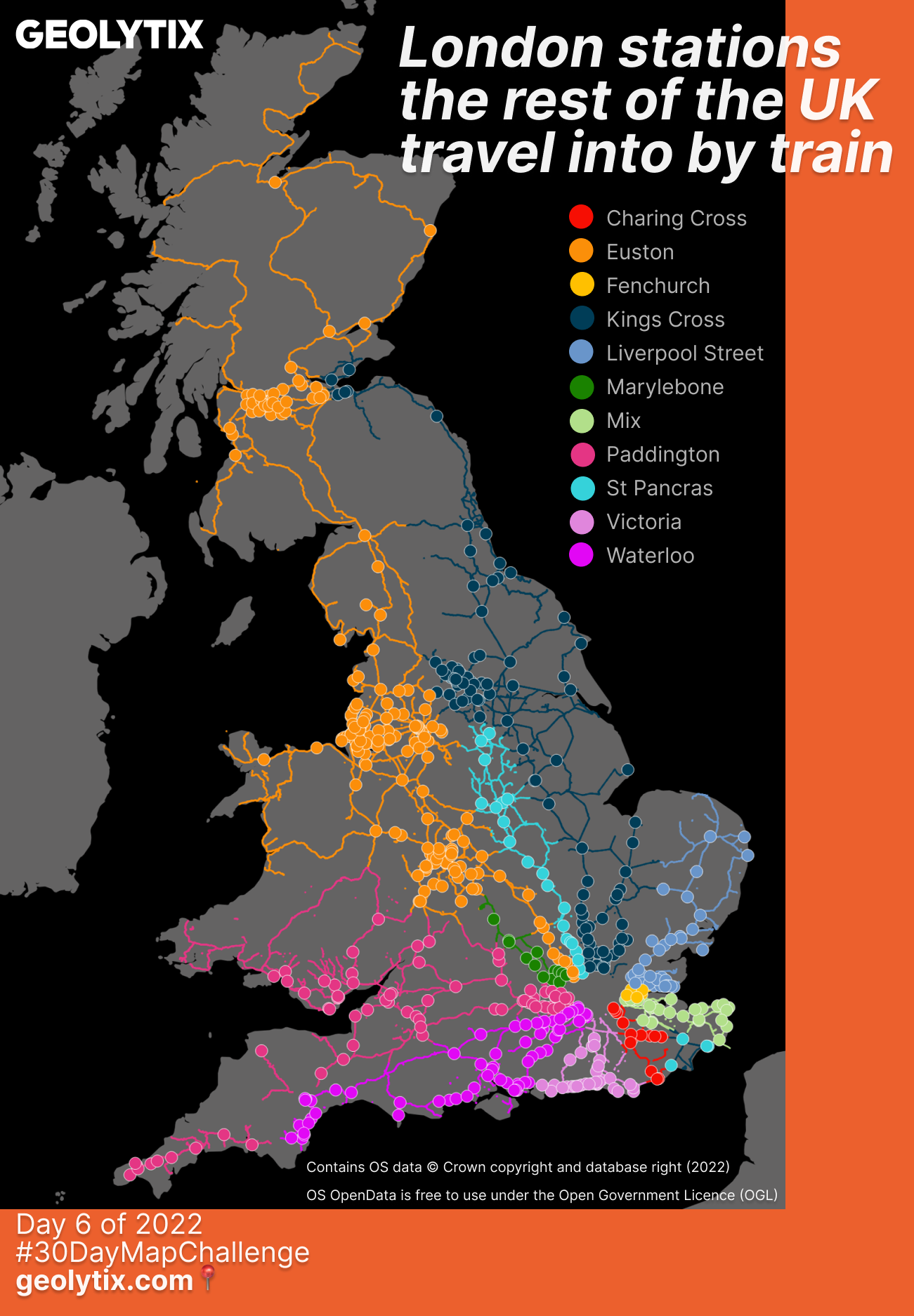 📅 Day 7: Raster by Alison Moriarty
Activity Hot Spots in Central Las Vegas Using Mobility Data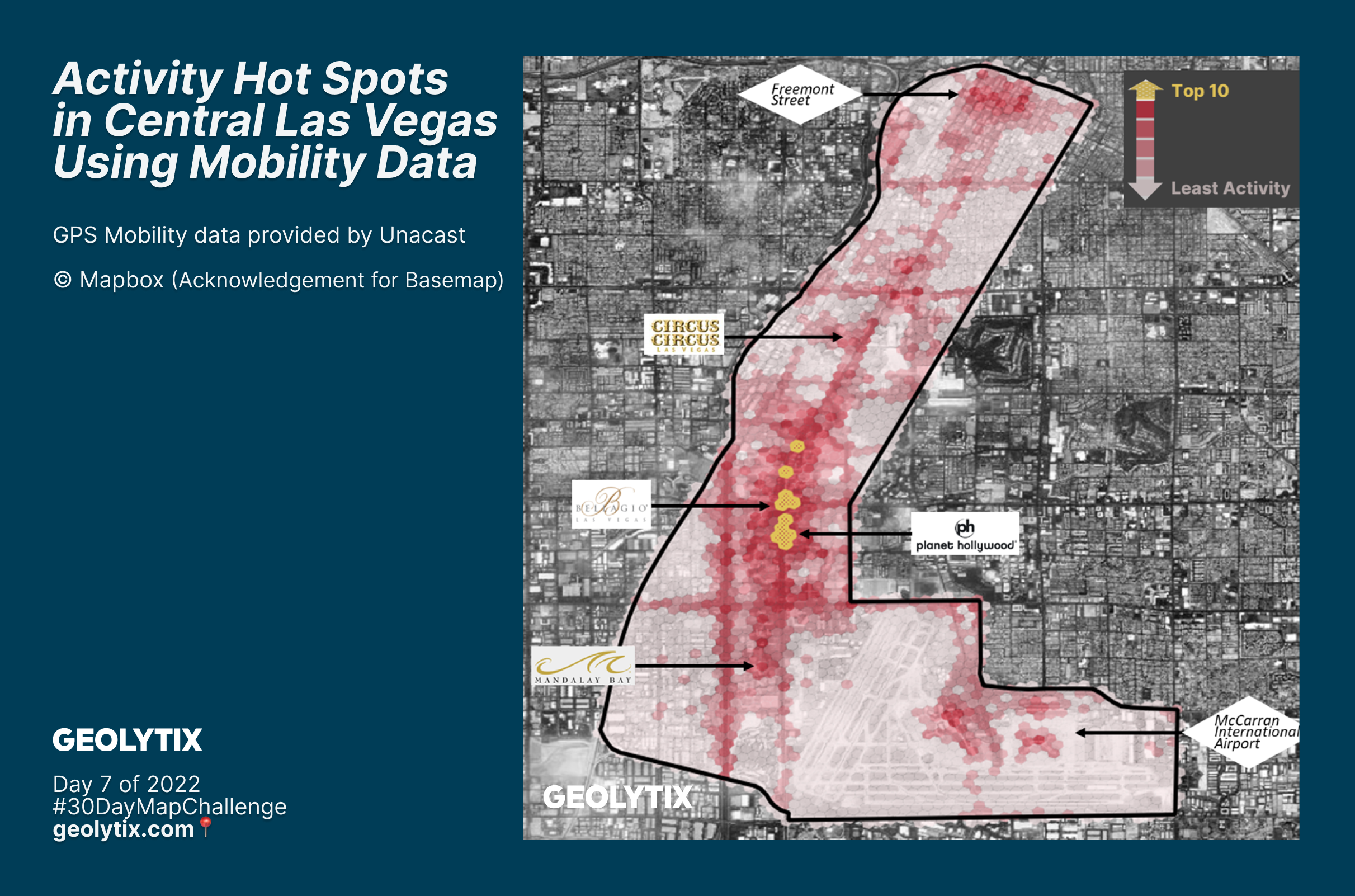 📅 Day 8: OpenStreetMap by Ilya Ilyankou
World Urbanism Day. Brooklyn's Road Network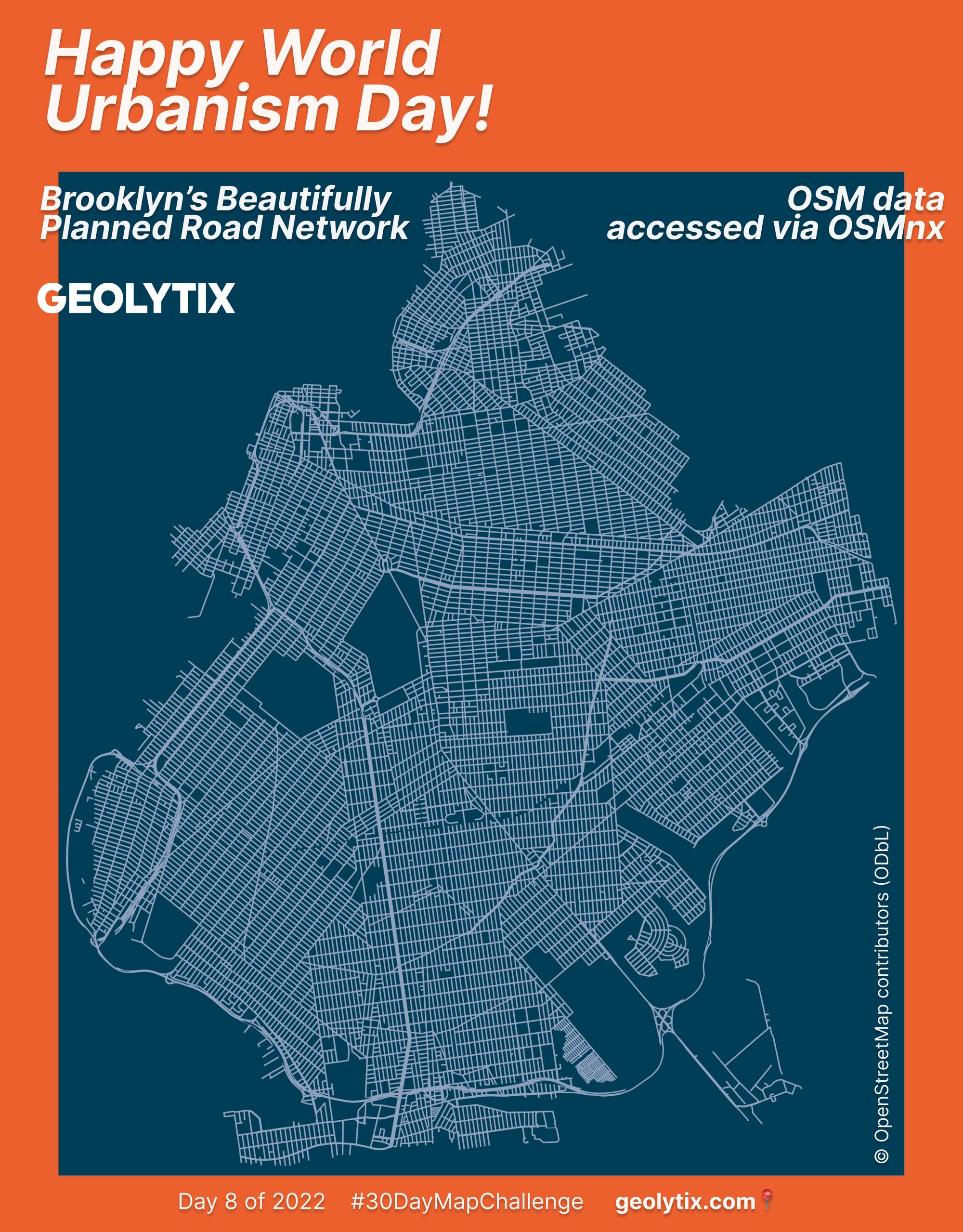 📅 Day 9: Space by Urmi Shah
A star map of the night sky of when and where Geolytix was born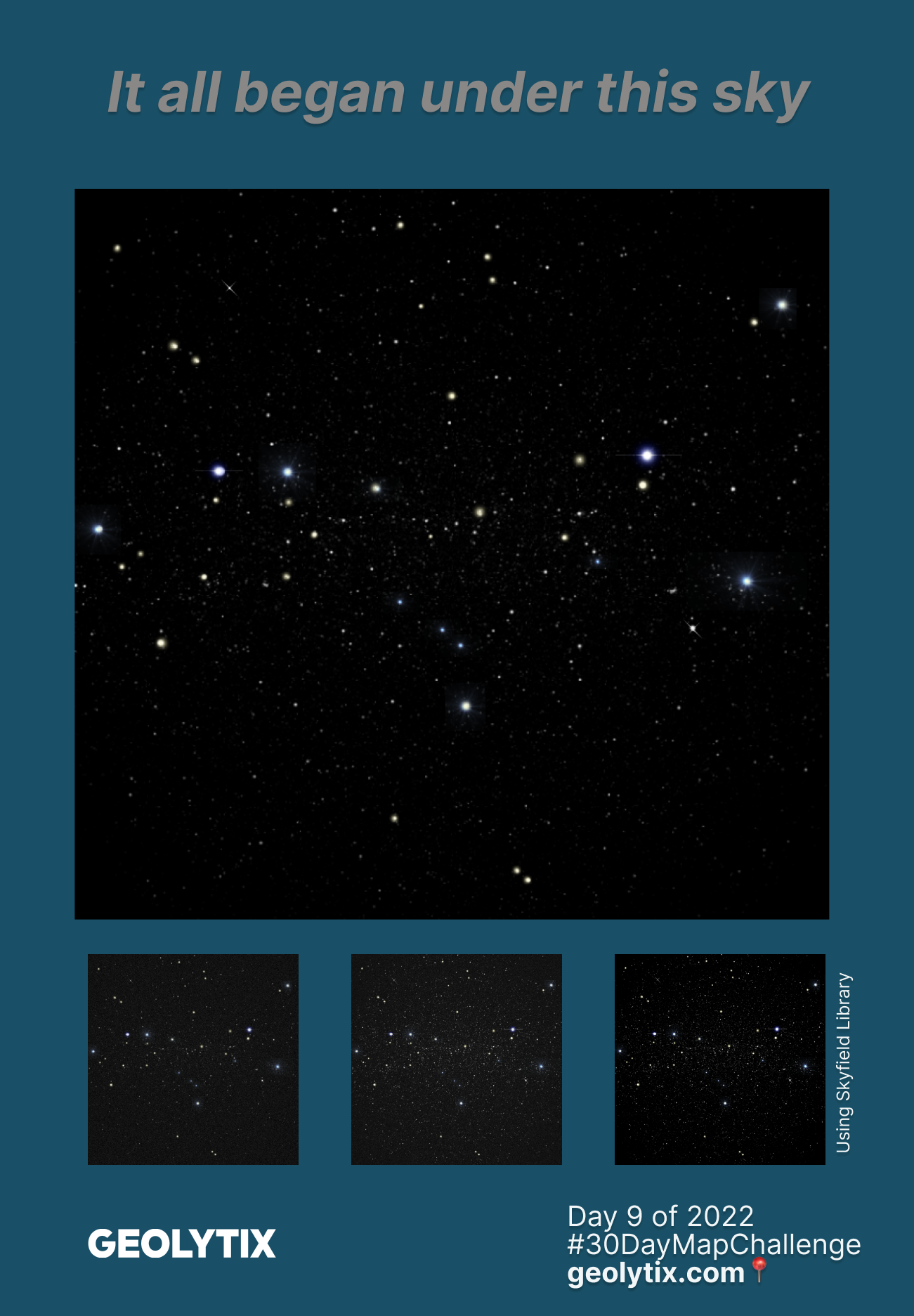 📅 Day 9: Space by Neil Farricker
Vectorisation of Jupiter's south pole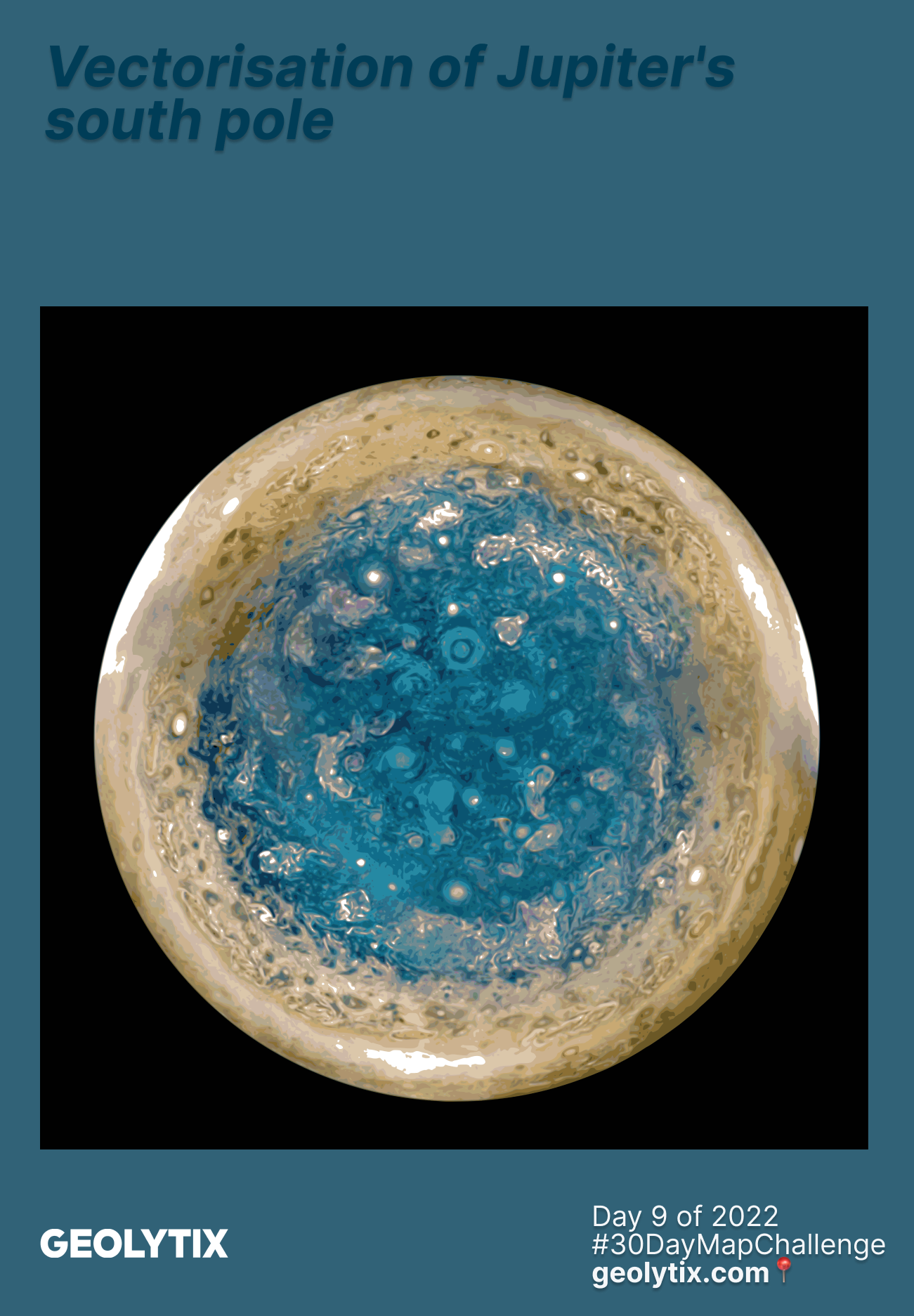 📅 Day 10: A bad map by Blair Freebairn
A bad Bad map showing places which begin with 'Bad' in Germany and how they correlate to German mountains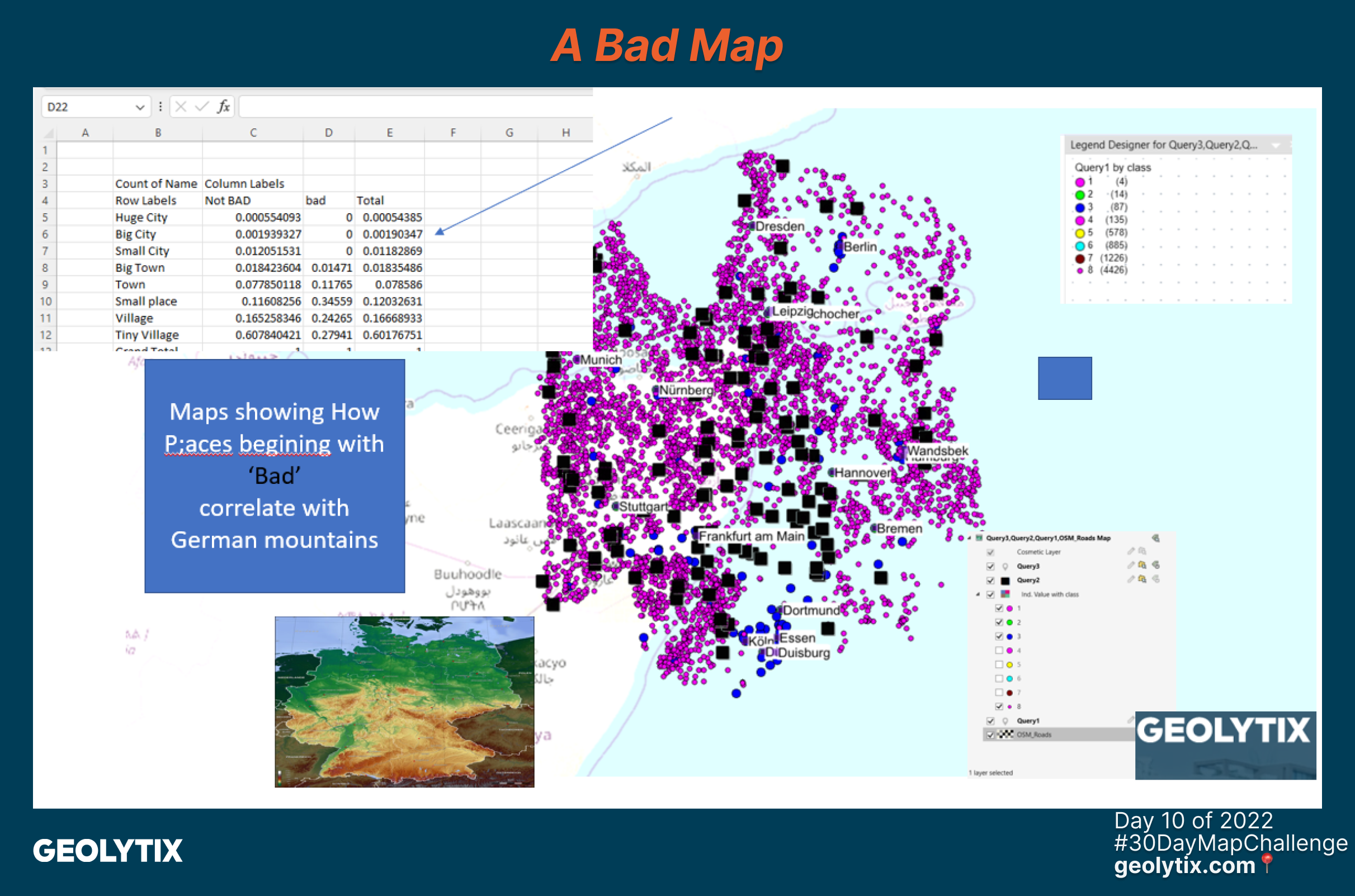 📅 Day 11: Red Friday by Rachel Wyles
Annual CO2 emissions per capita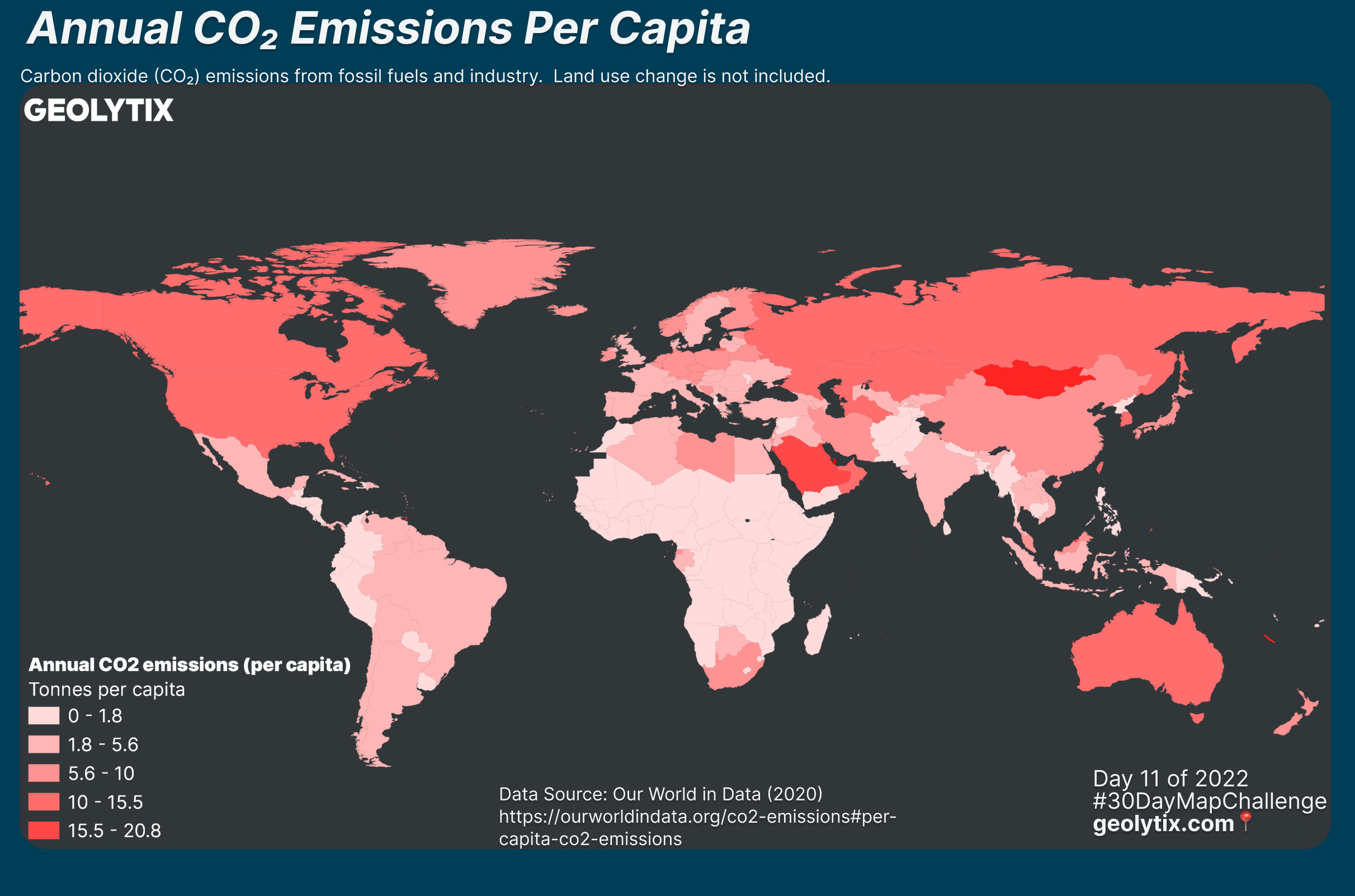 📅 Day 12: Scale by Louise Cross
Scale of Australia against USA, Central America, Asia and Europe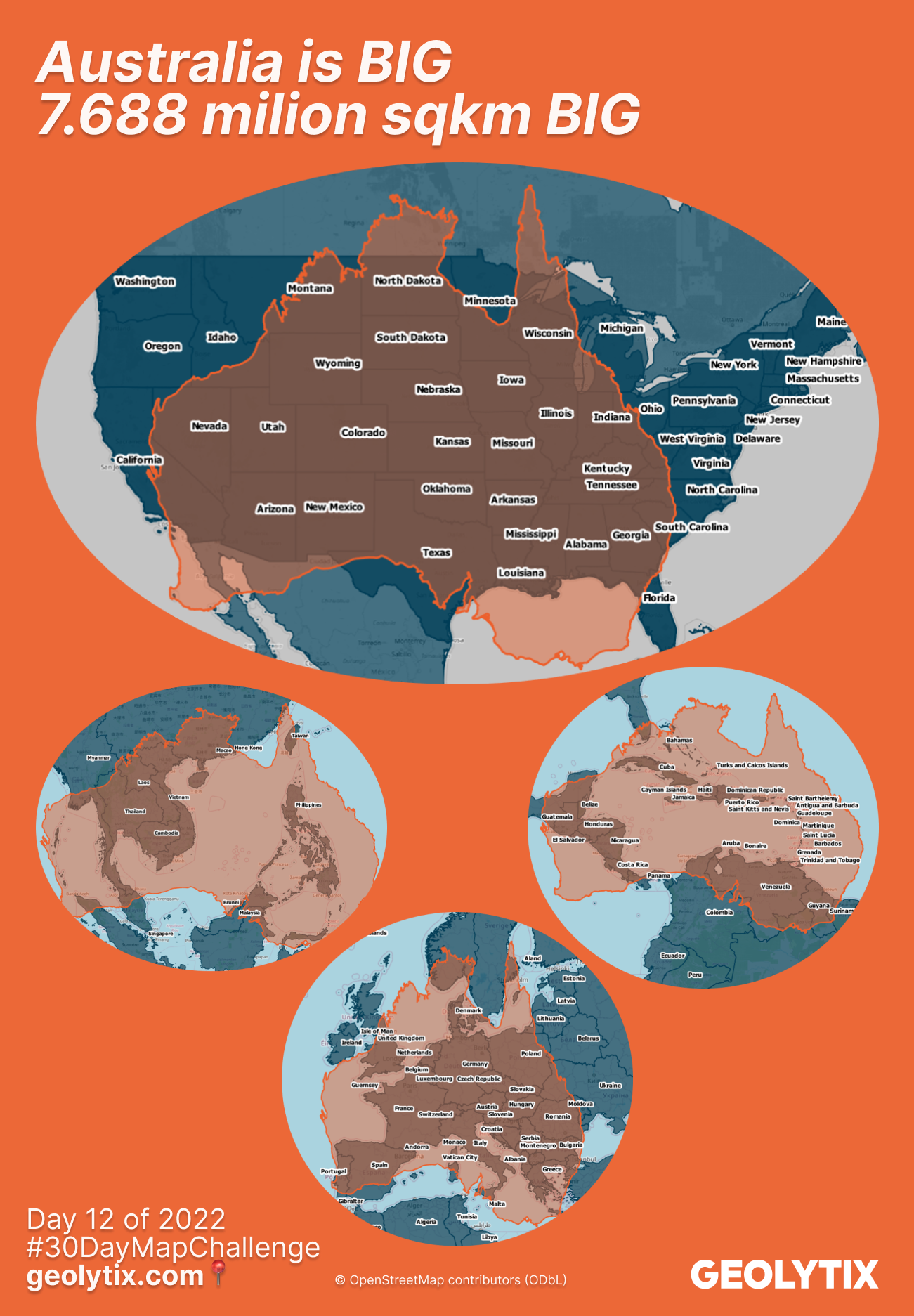 📅 Day 13: 5 minute map by Louise Cross
How far can you walk in 5 minutes? 5 minute walking from the Geolytix Leeds office using different sources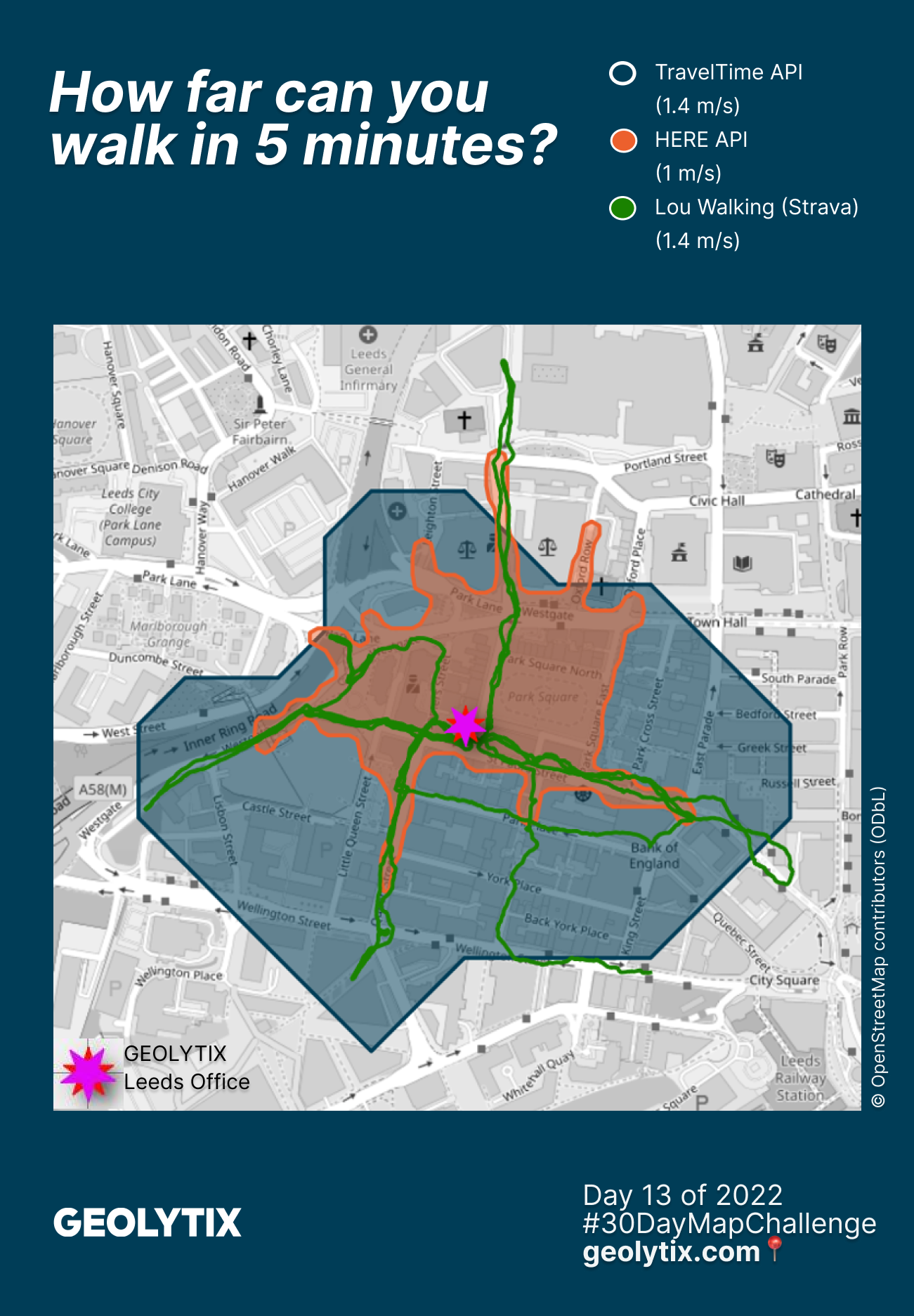 📅 Day 14: Hexagons by Matt Shaw
Public Electric Vehicle Chargepoints in London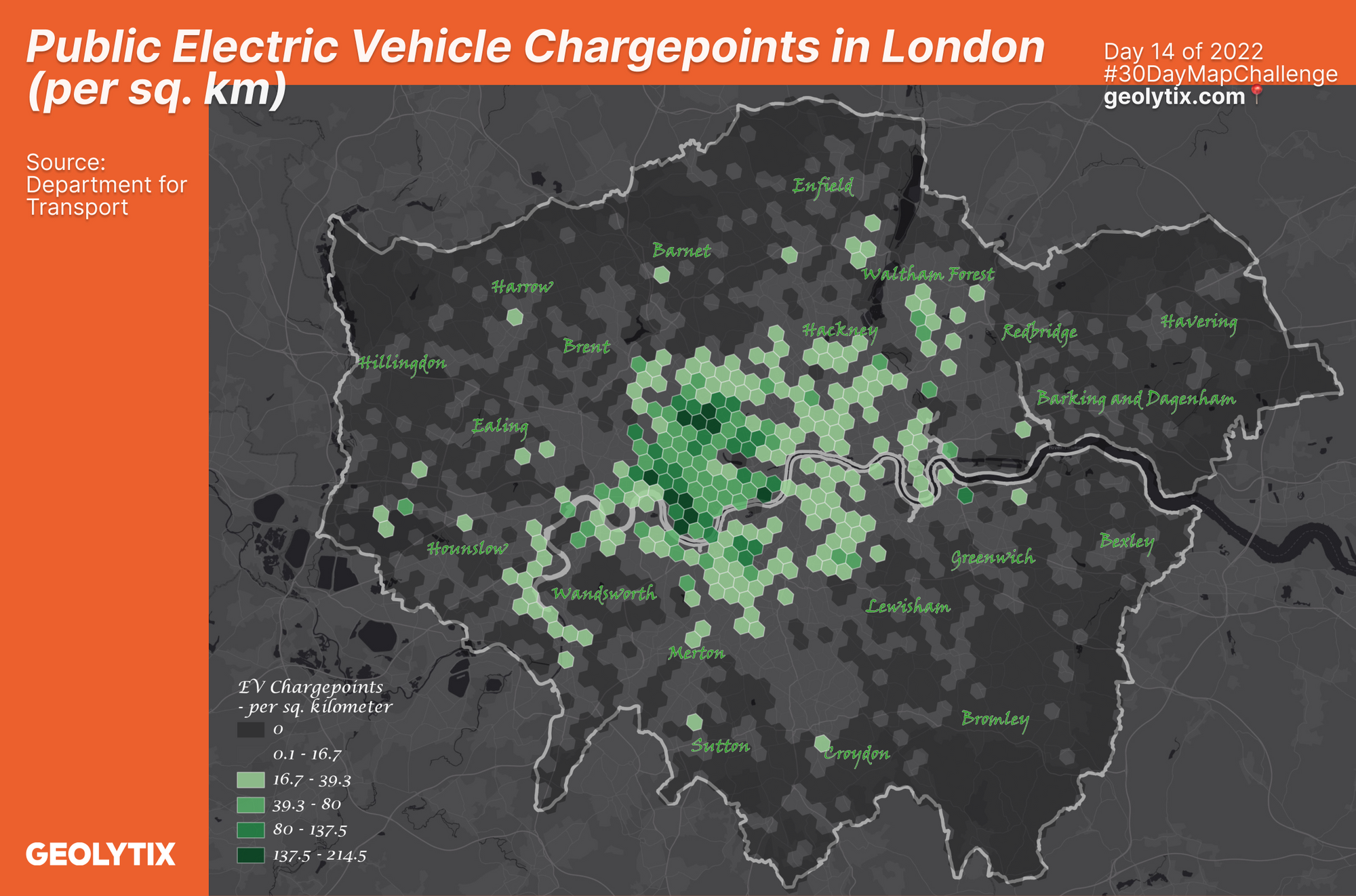 📅 Day 15: Food or Drink by Luke Whittam
Noodle Shops in Japan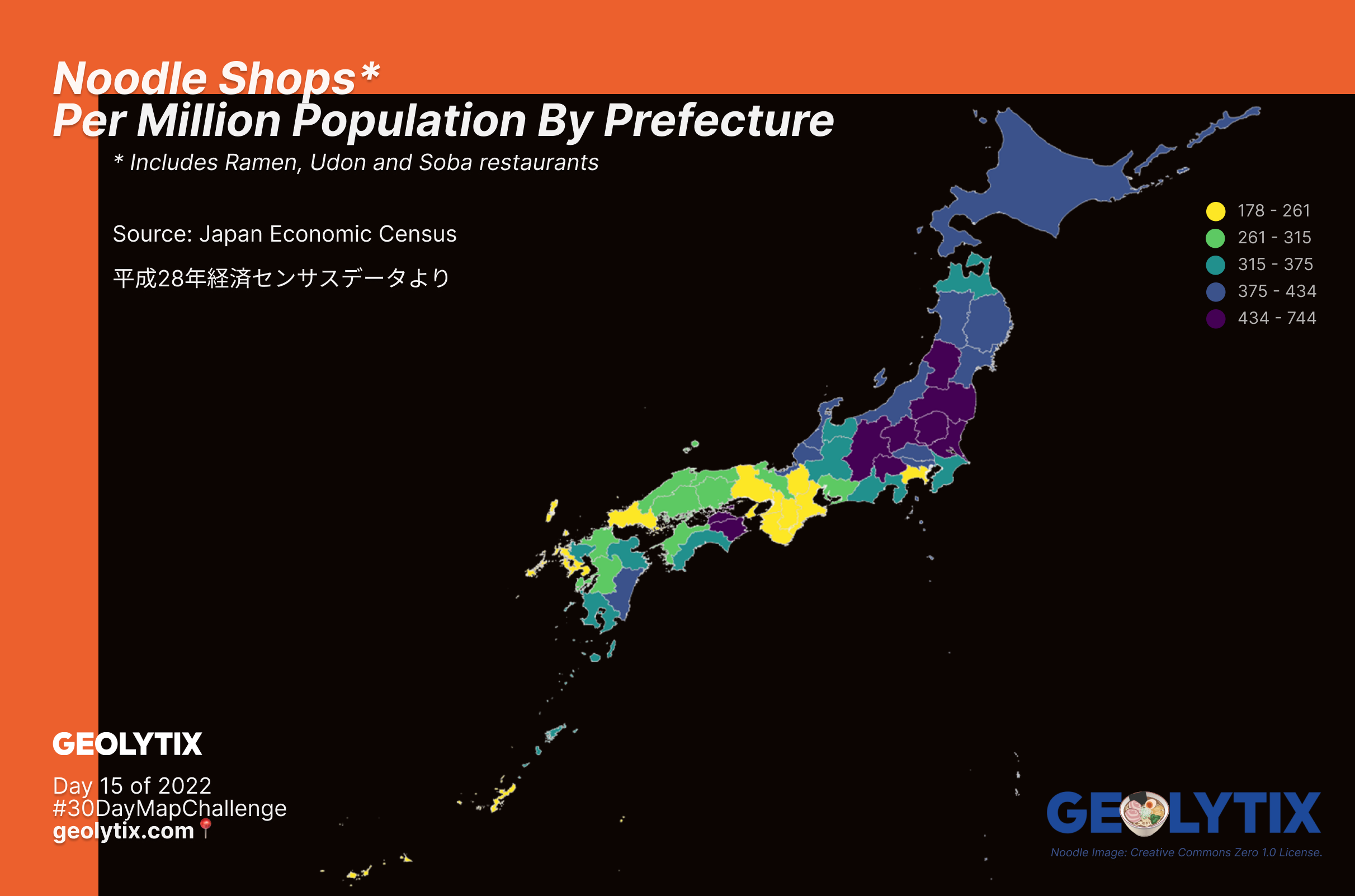 📅 Day 16: Minimal by Chris Storey
Chris turned the census population at Commune into random point distribution based on the value, then randomly colour with Belgian flag colours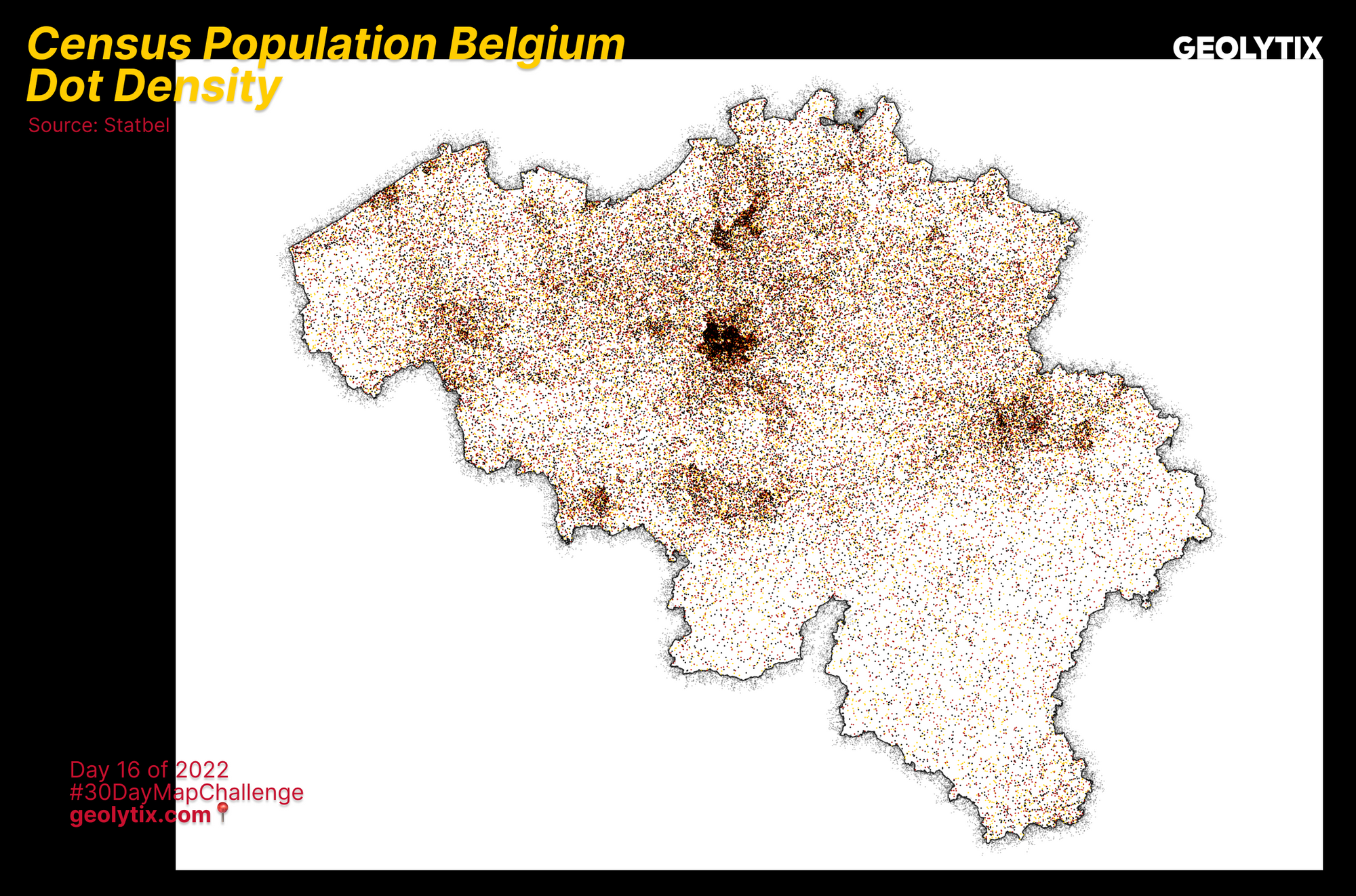 📅 Day 17: A map without a computer by Aimee Thomason & Rebecca Mellor
This brilliant map with pasta originating from different regions of Italy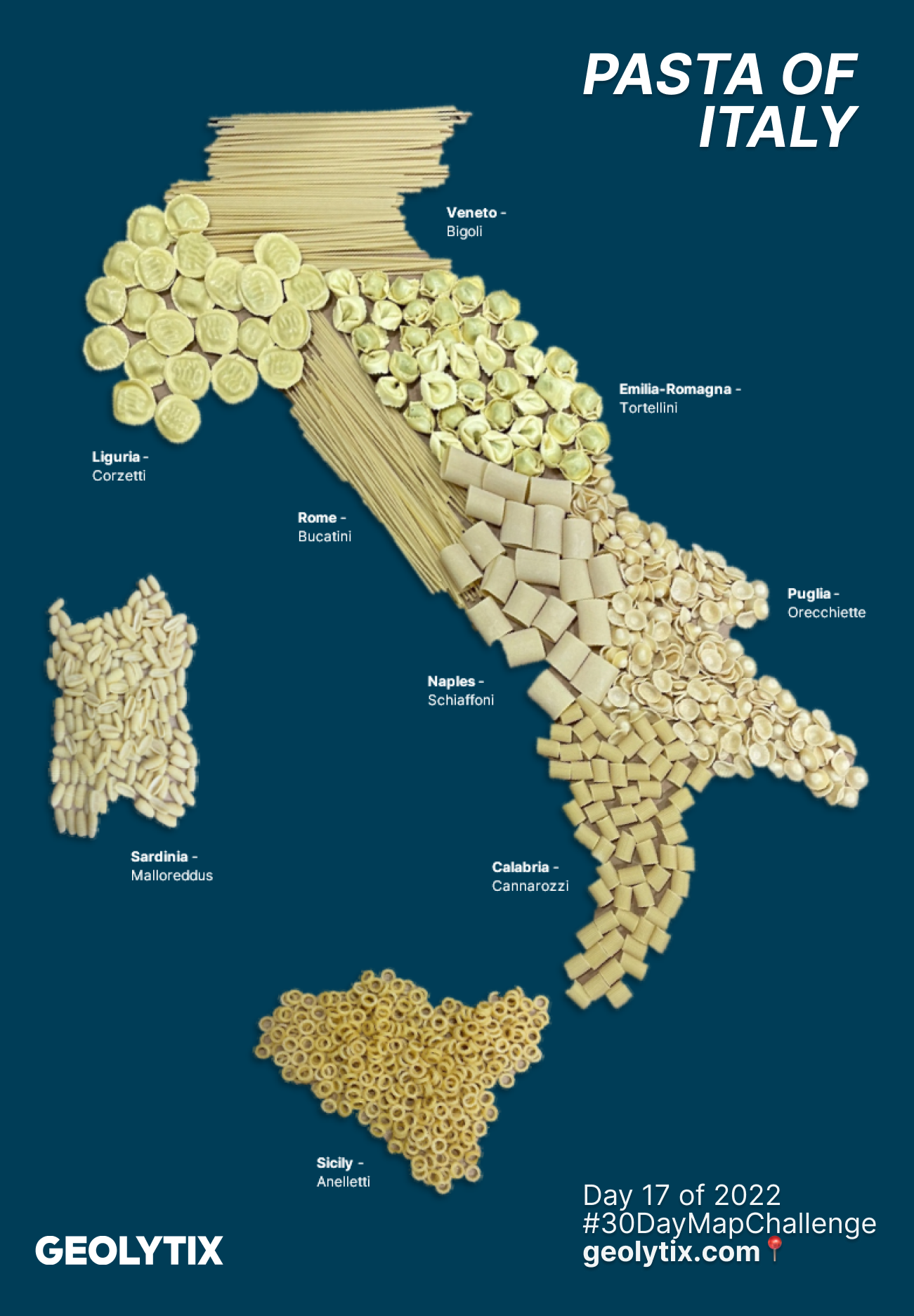 📅 Day 18: Colour Friday: Blue by Freddie Wallace
Chart positions of the song Blue Monday by New Order in various countries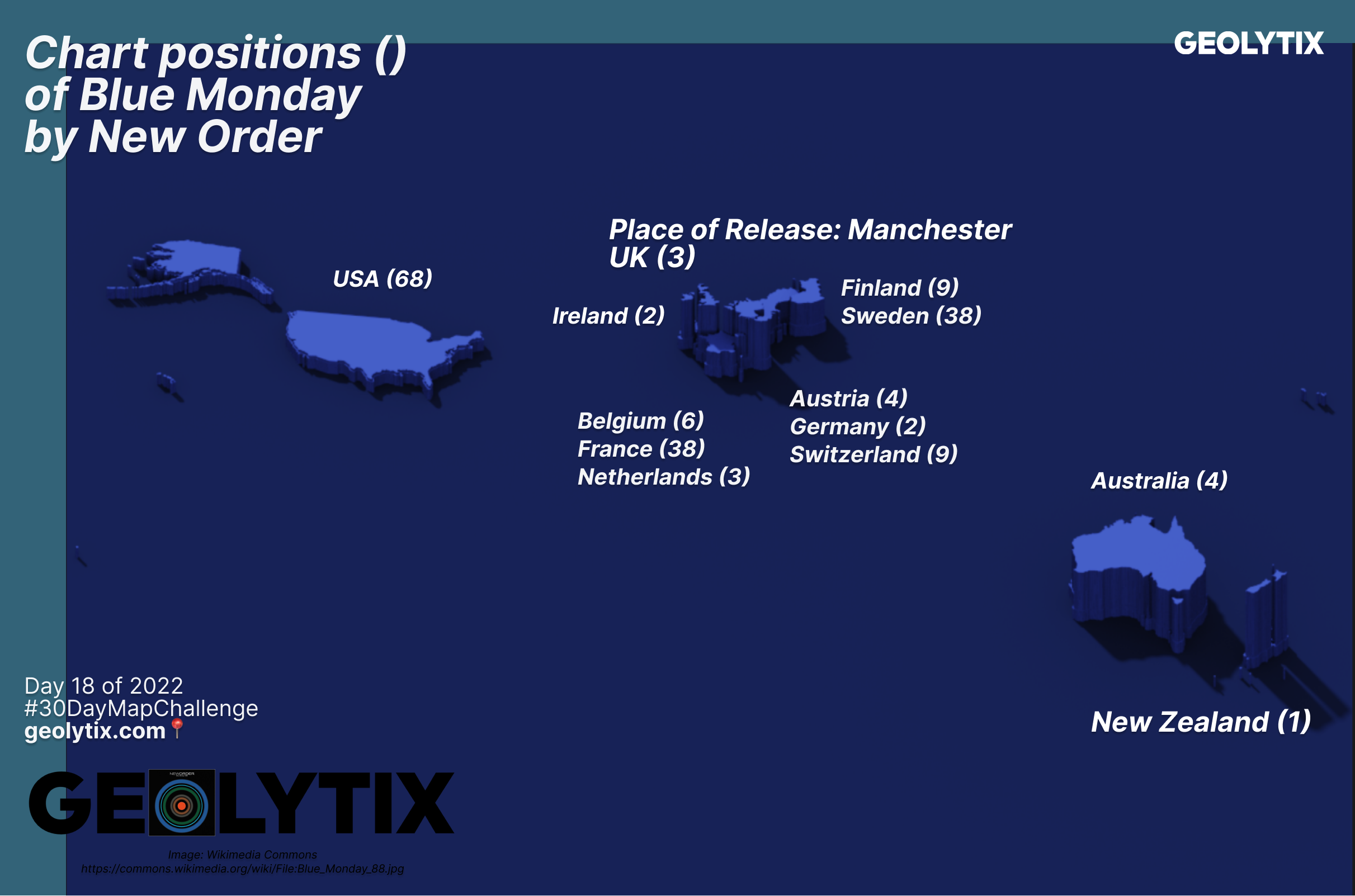 📅 Day 19: Globe by Imogen Francis
Time Out's 51 coolest neighbourhoods in the world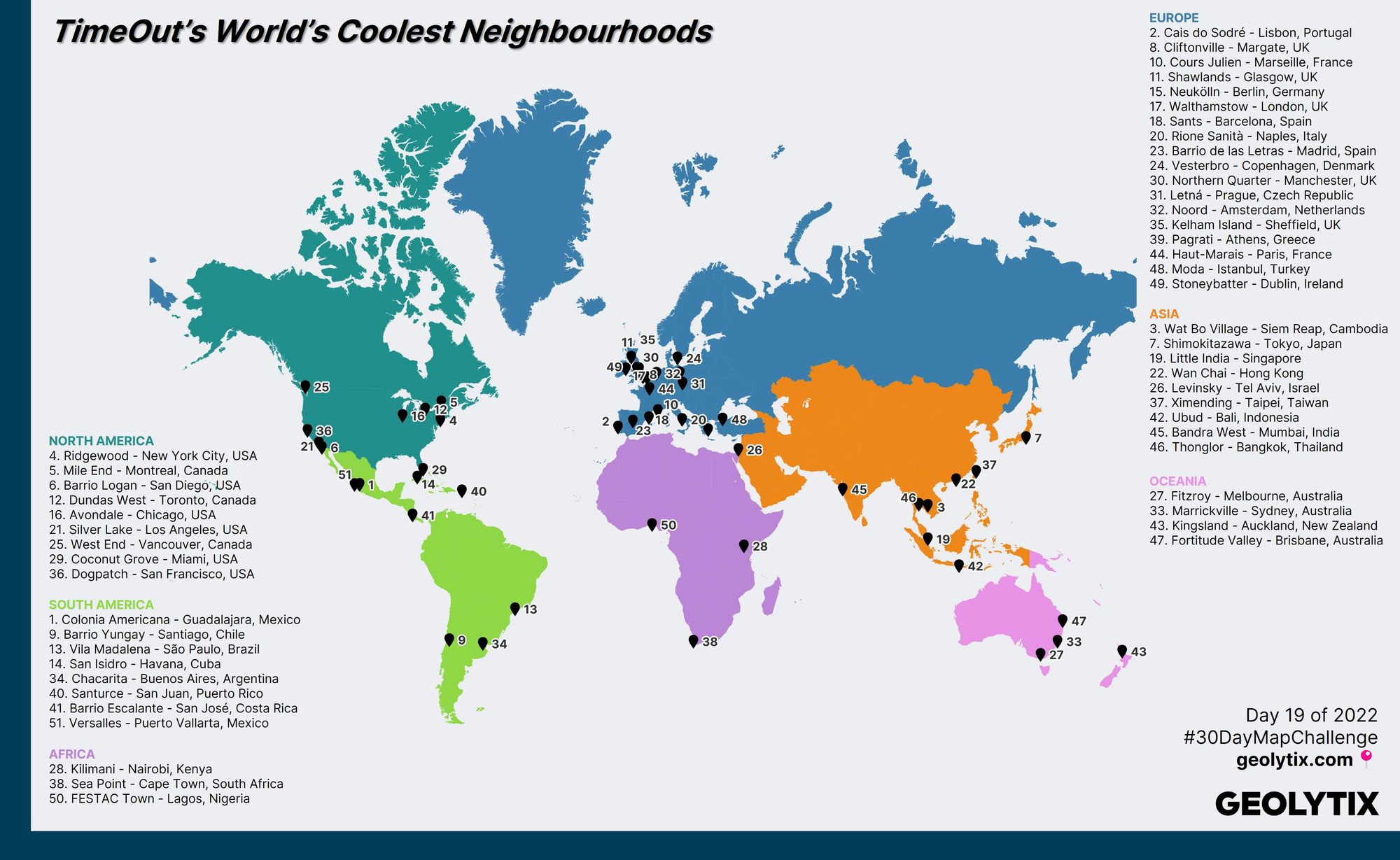 📅 Day 20: "My favourite..." by Lizzie Dawson
Geolytix share their favourite restaurants across the world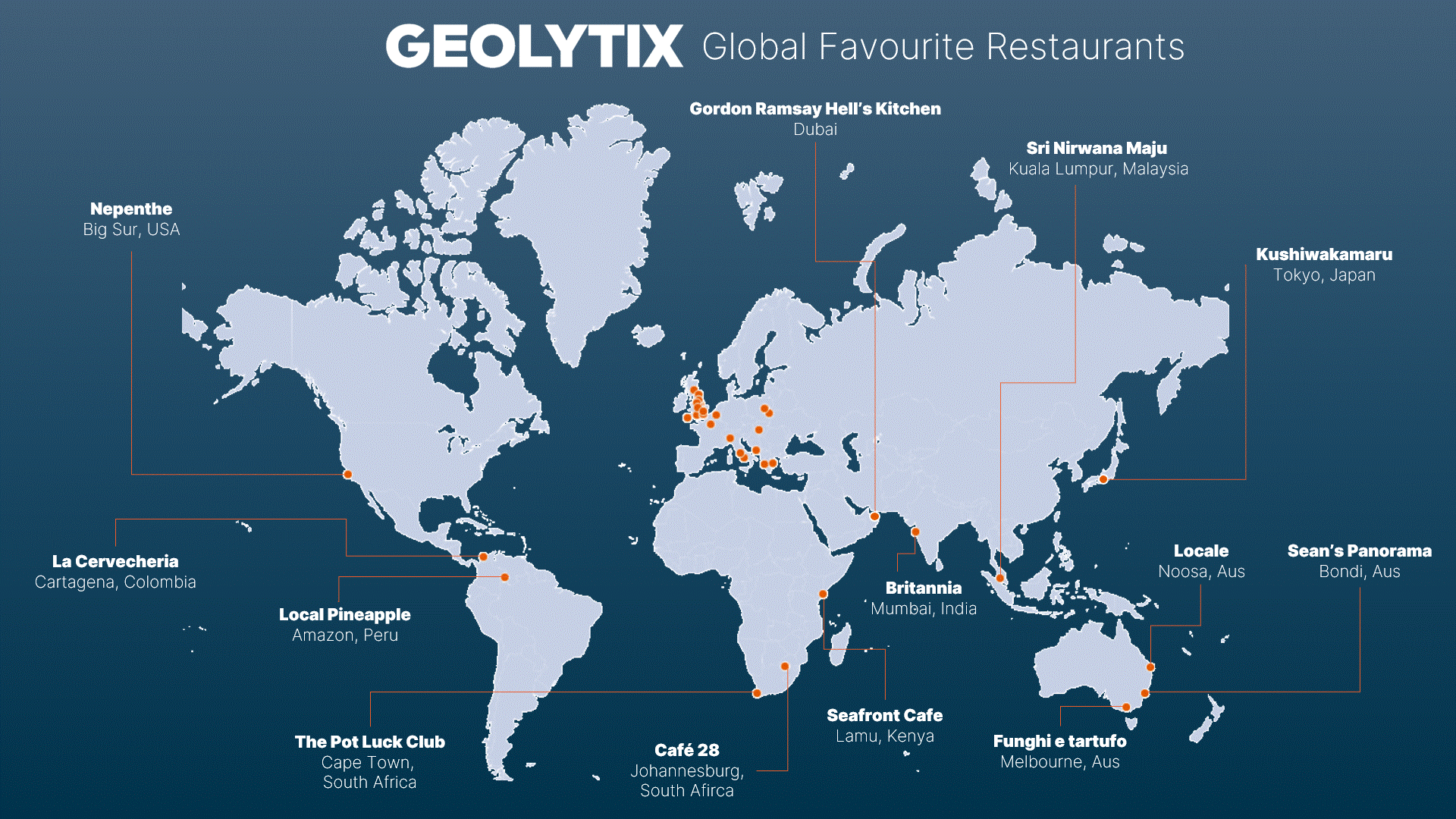 📅 Day 21: Data: Kontur population dataset by Kim Butterfield
British Isles Population Density using Kontur population dataset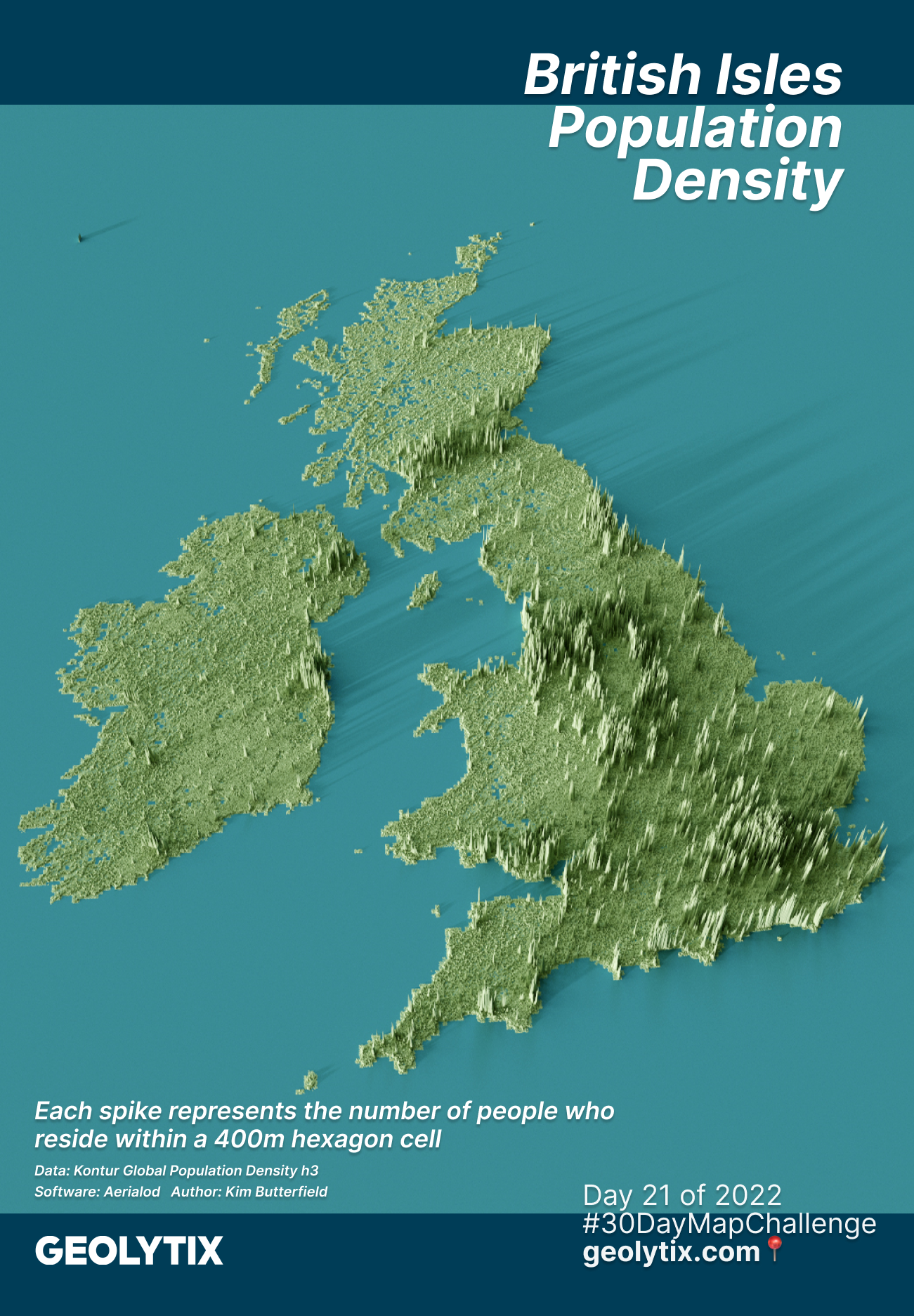 📅 Day 22: NULL by Matt Martin
Closed Supermarkets as a share of Open Supermarkets at Geolytix Shopper Town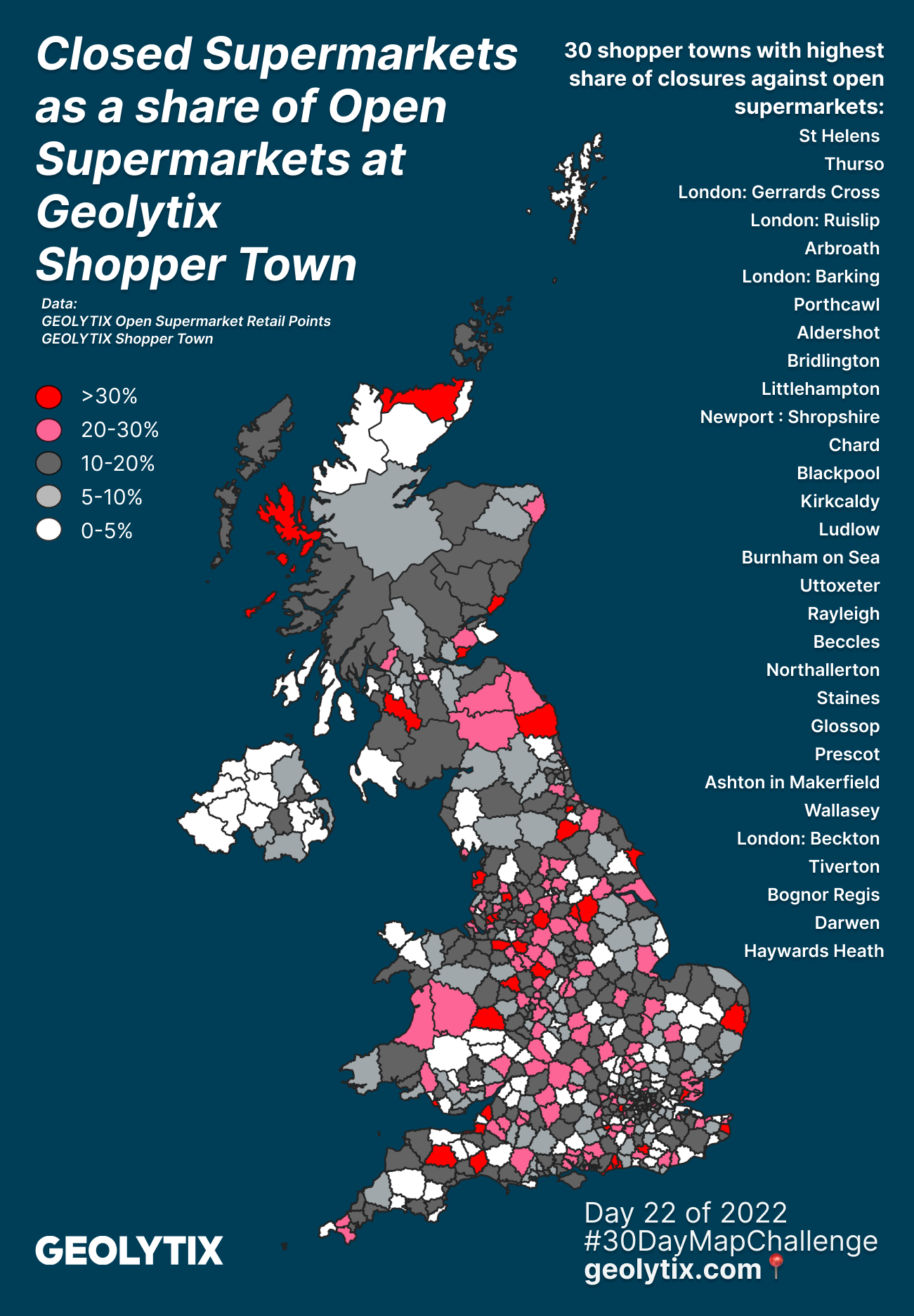 📅 Day 23: Movement by Christoph Mülligann
On the move... using mobility ping data to show average progress of working day journeys in various cities between November 2021 and October 2022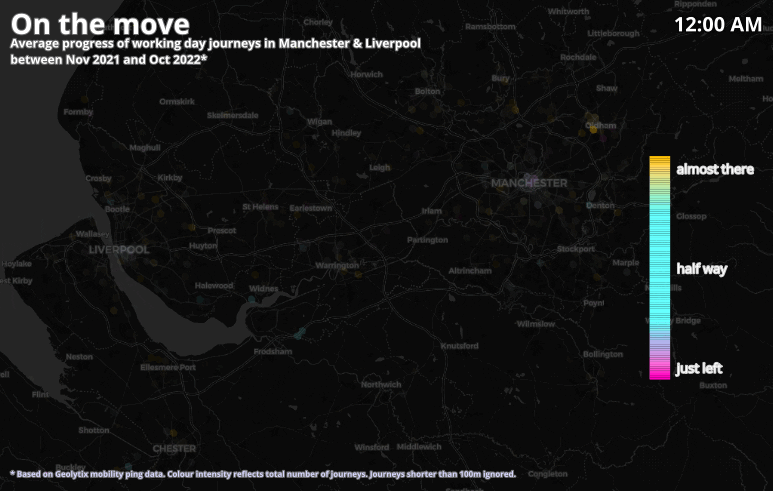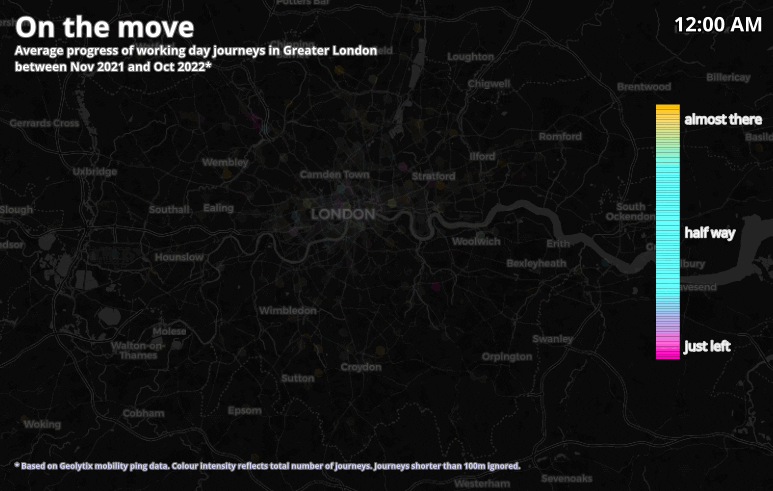 📅 Day 24: Fantasy by Josh Reynolds
UFO Sightings per capita from 1969 to 2021 across the United States of America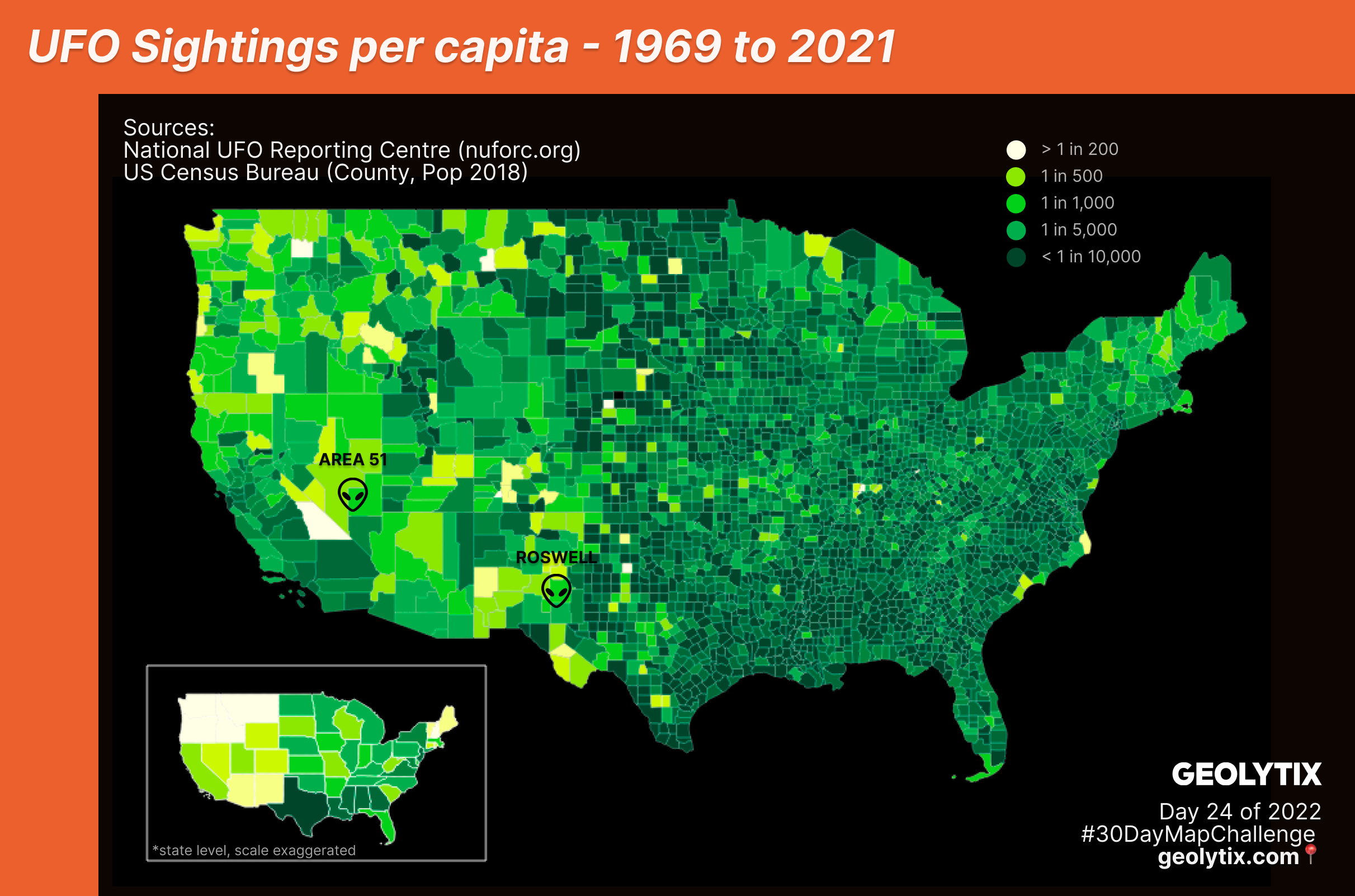 📅 Day 25: Colour Friday: 2 colours by Dan Dungate
Yellow and Red Cards in the Premier League by Country by Appearances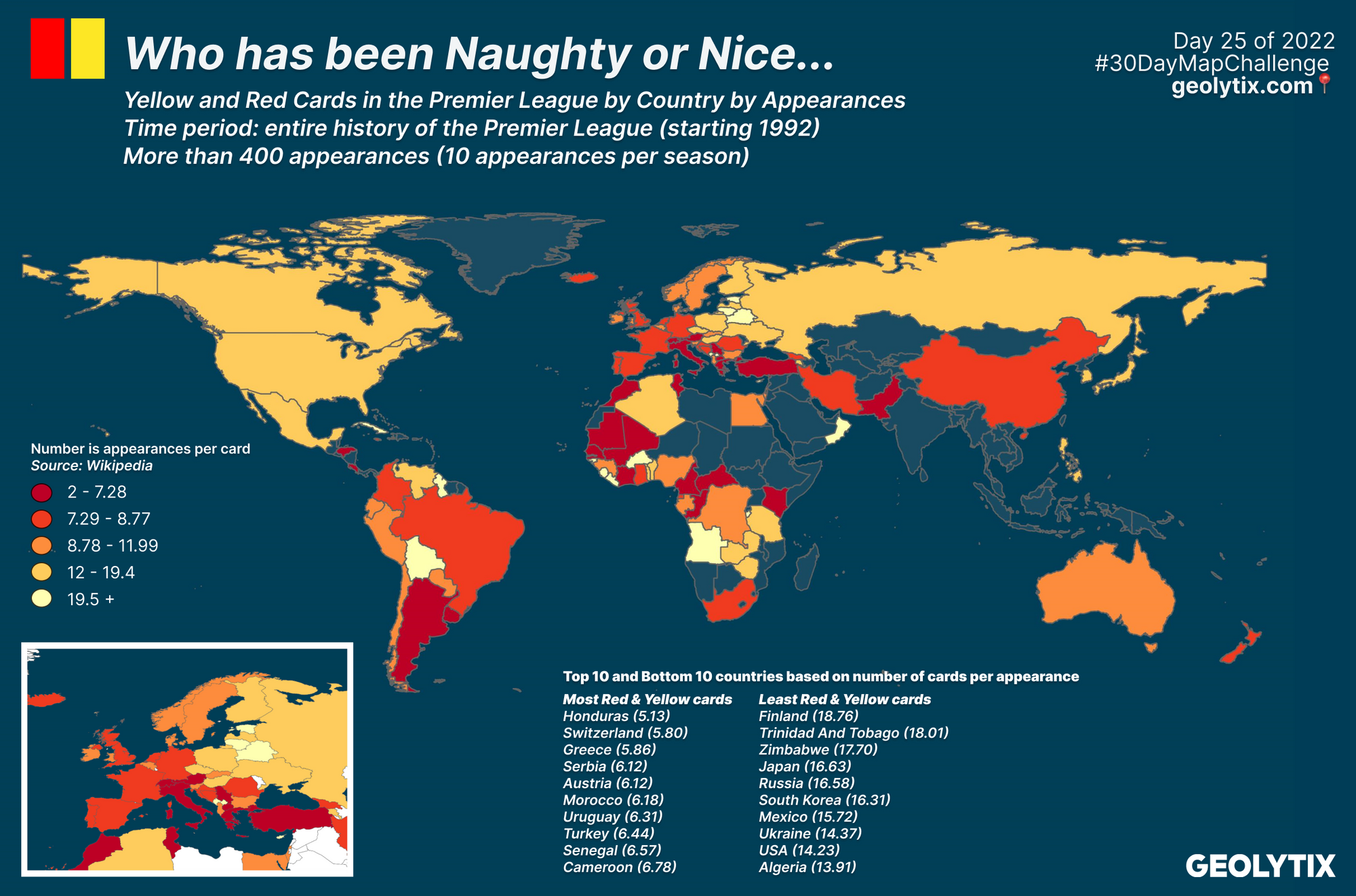 📅 Day 26: Island(s) by Therese Branch
Population density of Barbados in the national colours (blue and gold). It became a Republic last year on 30th Nov 2021 (celebrating the first full year anniversary on Wednesday 30th Nov 2022). They are also the world's youngest republic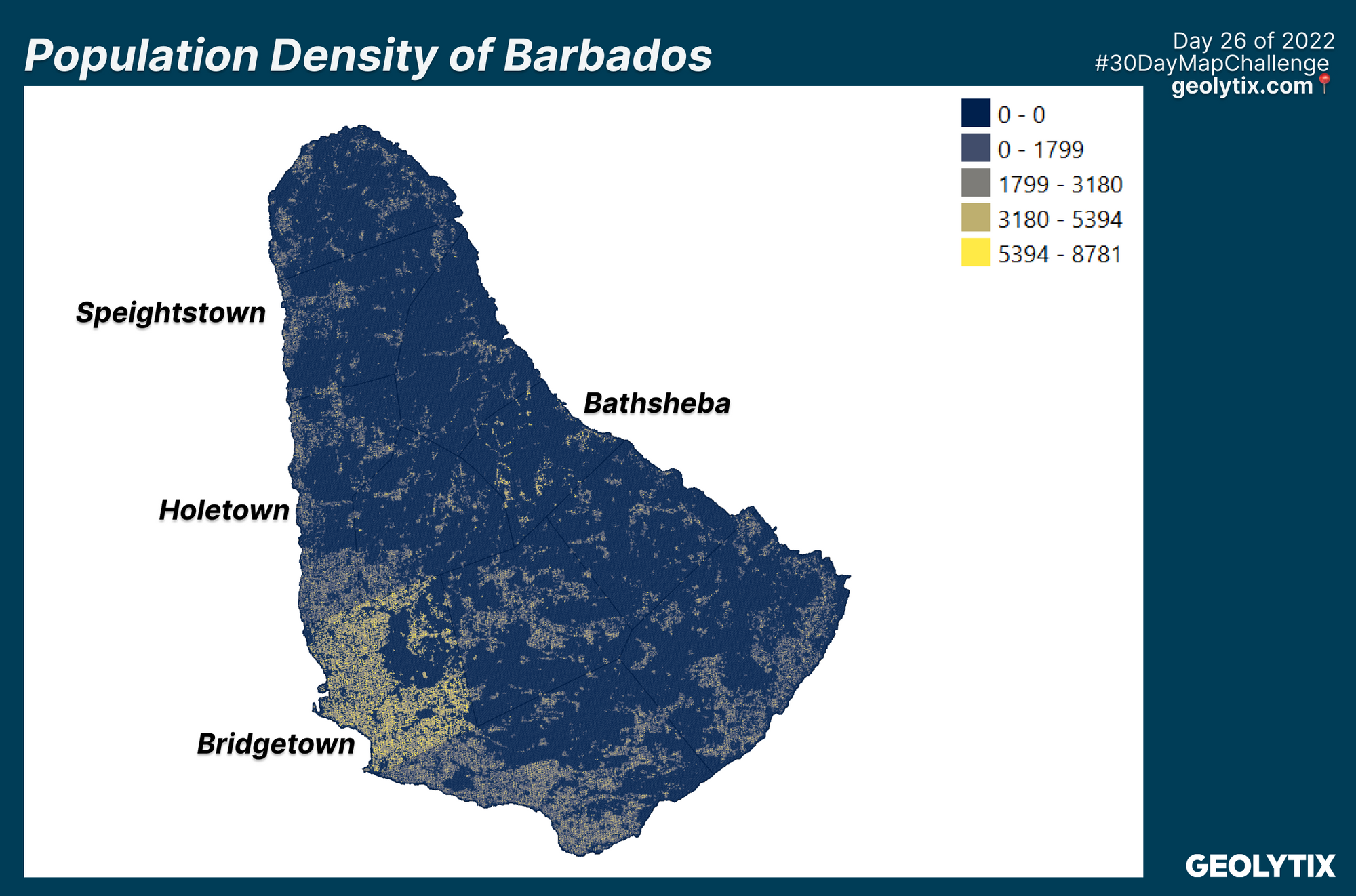 📅 Day 27: Music by Robert Hurst
UK festivals per Local Authority District in 2022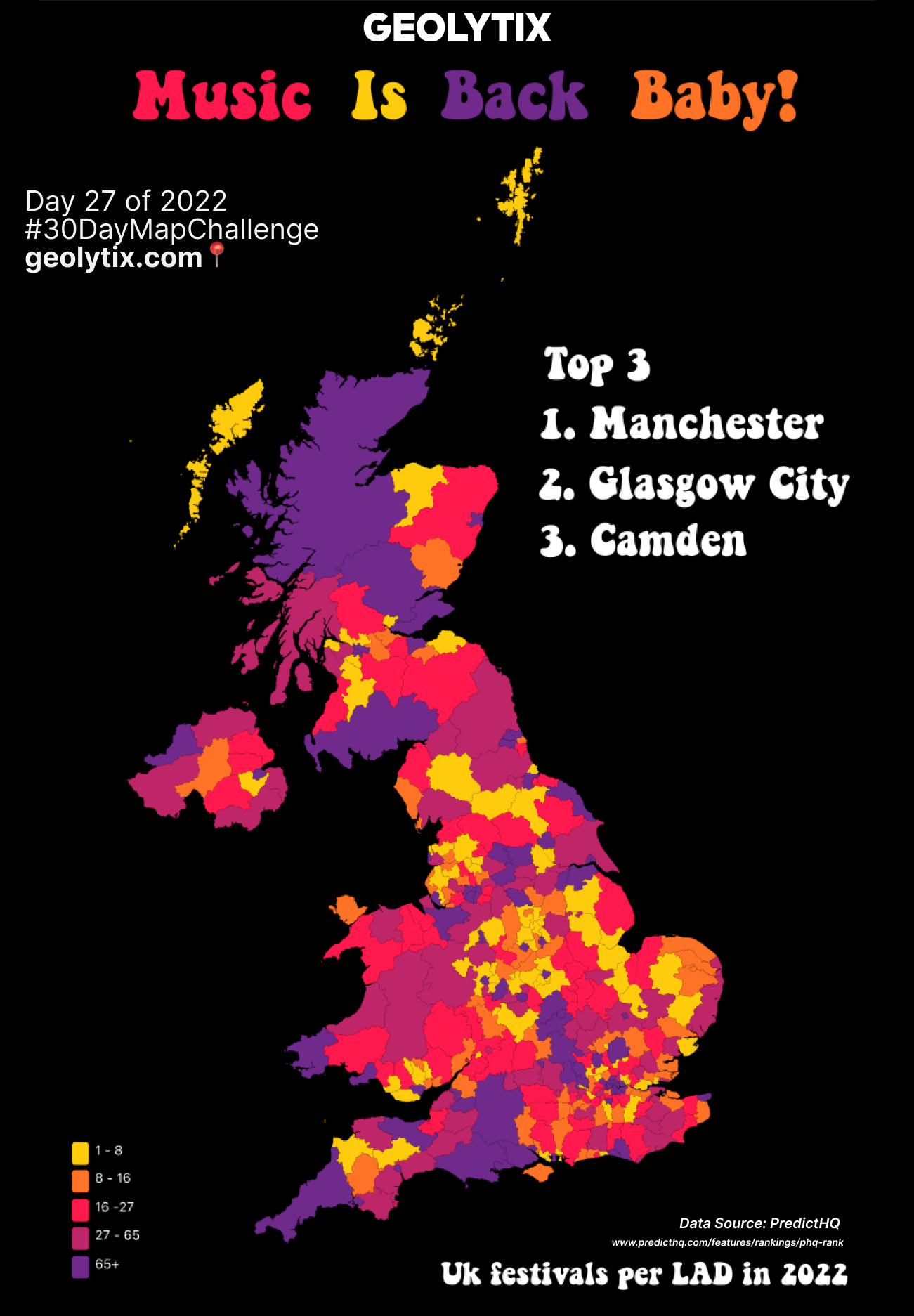 📅 Day 28: 3D by Josh Reynolds & Agata Brok
11,695 pieces, 16 hours over a month of Thursdays and voila... LEGO Art World Map built by Josh & Agata in our London office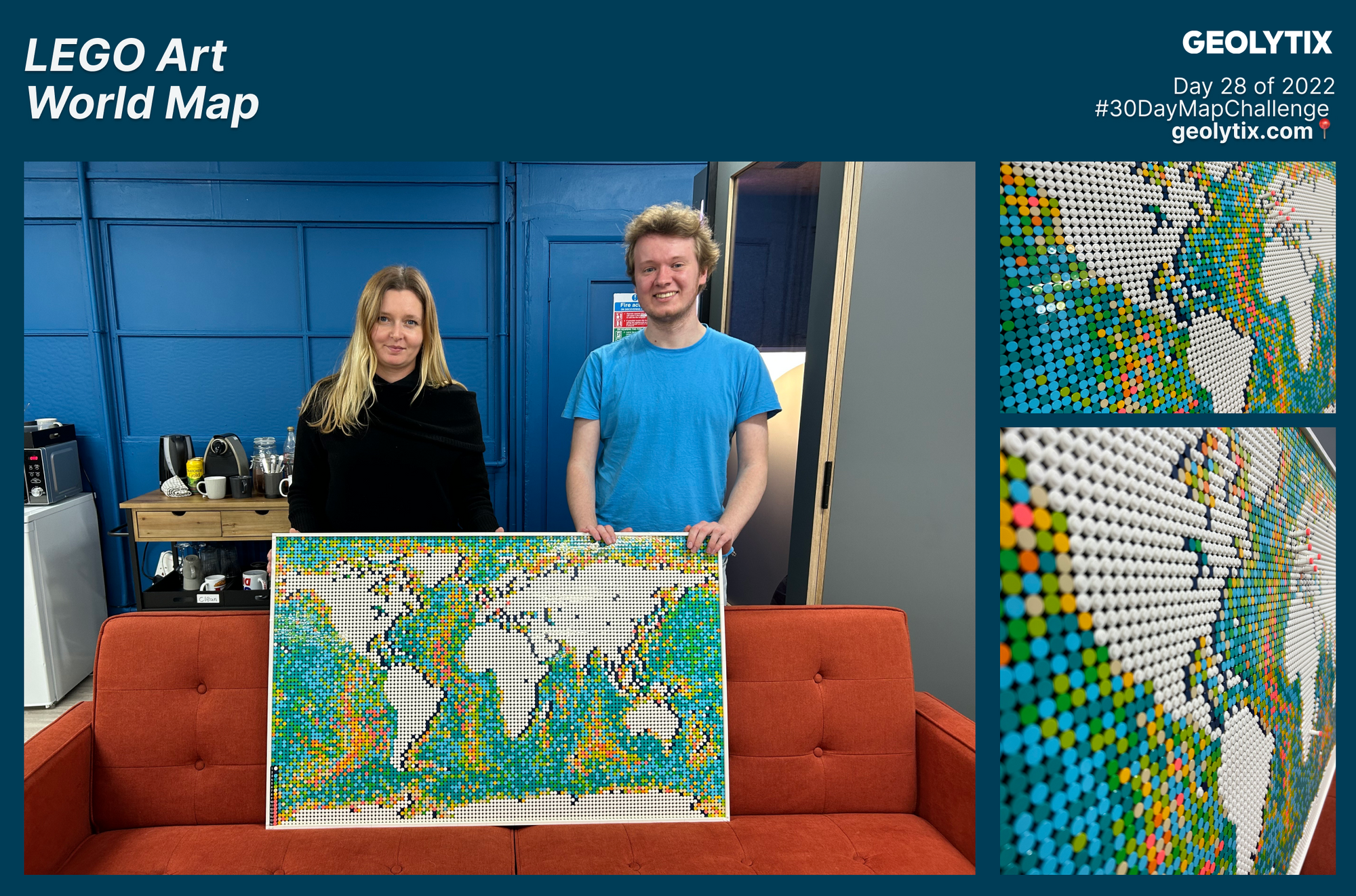 📅 Day 29: "Out of my comfort zone" by Louise Cross
Mind map of  things the team have done which put them out of their comfort zone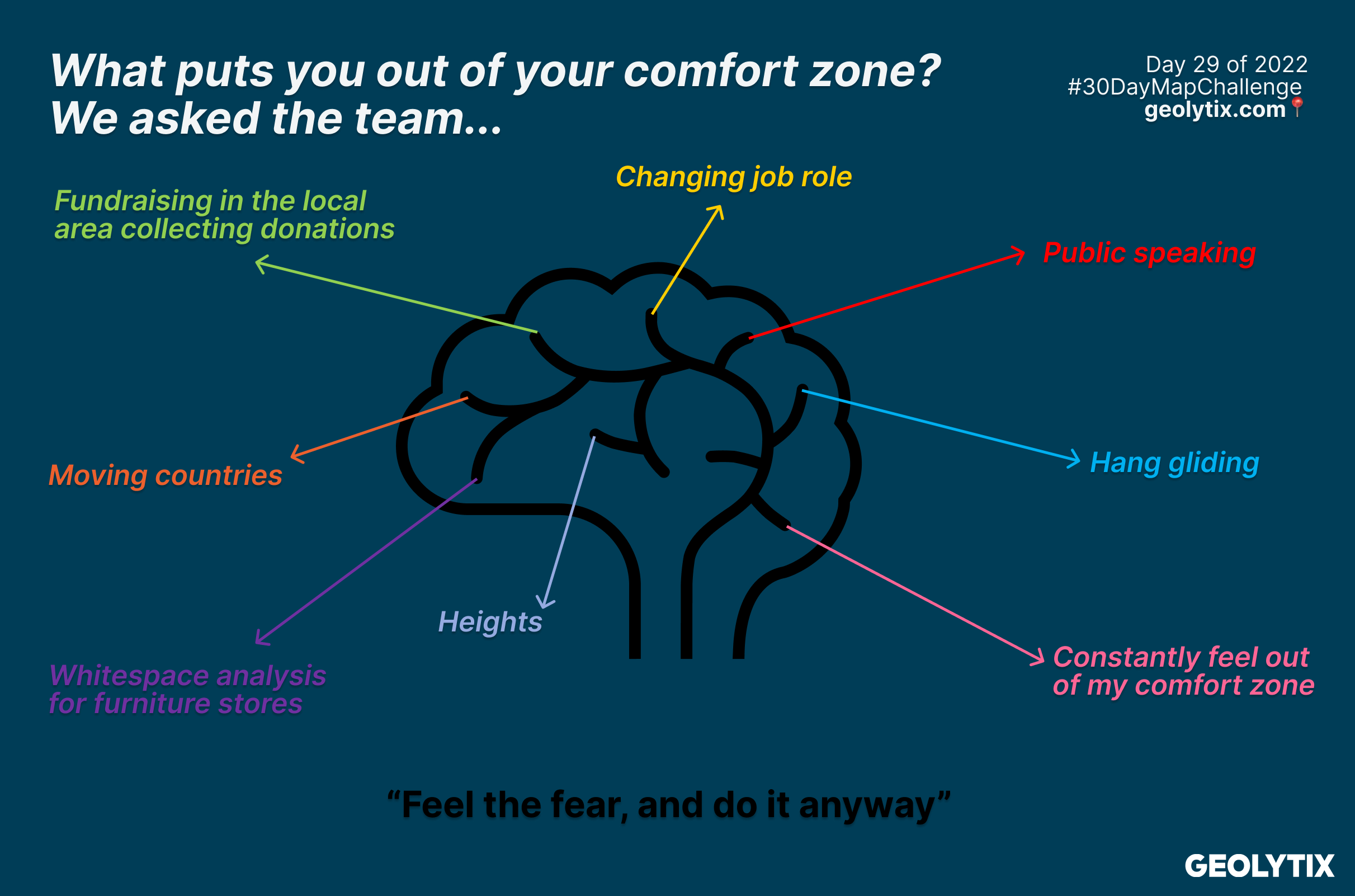 📅 Day 30: Remix by Lizzie Dawson
25 biggest music festivals in the world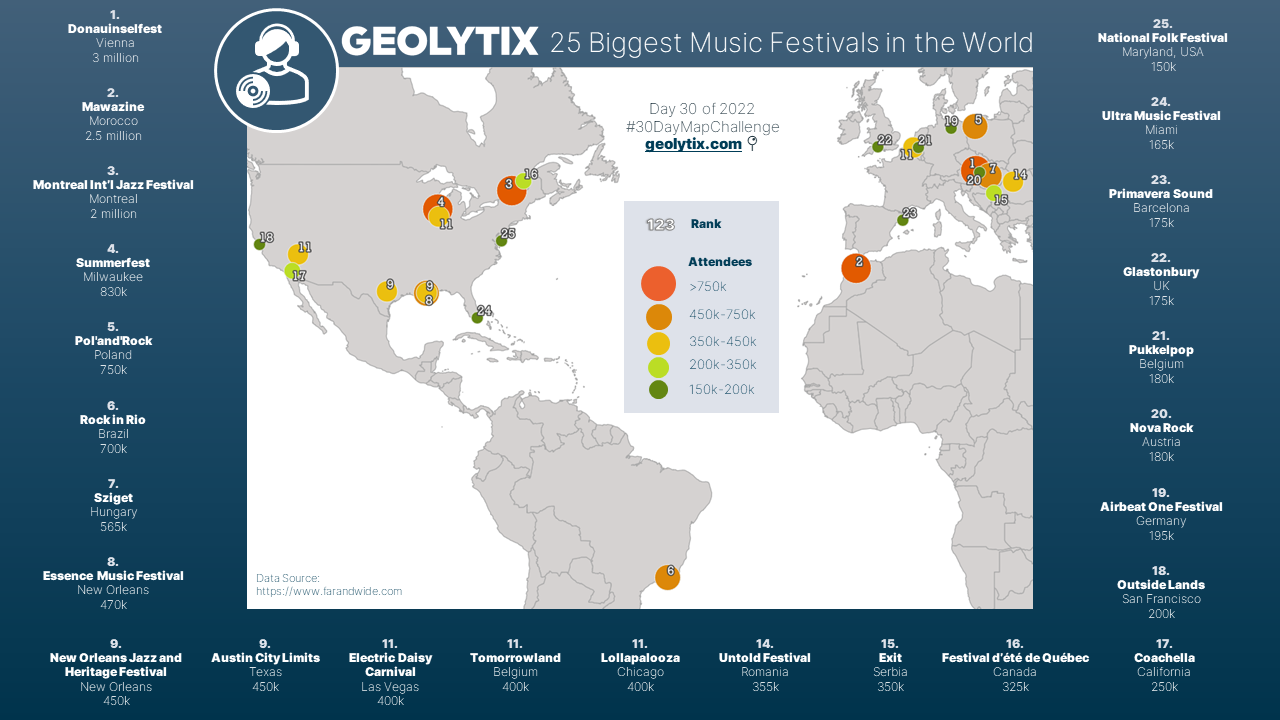 We hope you enjoyed our maps.
Team GEOLYTIX