As keen health and fitness individuals, with many Gymshark pieces in our gym wear collections, we were very excited to hear the brand was opening their first ever store on London's Regent Street this autumn. Since its opening at the end of October, we've seen quite a mixed bag of write-ups, so we decided to book ourselves into the Sweat Room, and explore the full Gymshark experience for ourselves.
The interior store fit out is very stripped back and industrial in style, which may not be to everyone's taste, but to us felt like a good reflection on much of the gym and fitness industry - minimal but highly functional. There has clearly been a lot of thought and clever design at play, with clothing rails that double up as barbell racks, and mannequins based on Gymshark's real-life models and ambassadors (representing all shapes, sizes and abilities - the ultimate encouragement of body positivity!).
There was no gender specific area or categorisation of products, which may take some getting used to, but we both liked this as a slightly different and refreshing concept. The lack of space division and clear signage divided our opinion - on the one hand it encourages the customer to fully browse the store, however, on the other hand it could prove frustrating (particularly if you are strapped for time).
Customers are enticed to the first floor by an engaging display of weight plates suspended above the stairs. Upstairs, there are further product displays, a dedicated selfie space and gender-neutral fitting rooms (with adjustable lighting for the very best angles). The Pro Bench area is definitely something that makes the Gymshark in-store experience stand out - free 1-2-1 sessions with a Gymshark Pro, to help with form, technique and recovery.
The Hub, also located on the first floor but not in use when we visited, is a multi-use space created for guest speakers, events and more.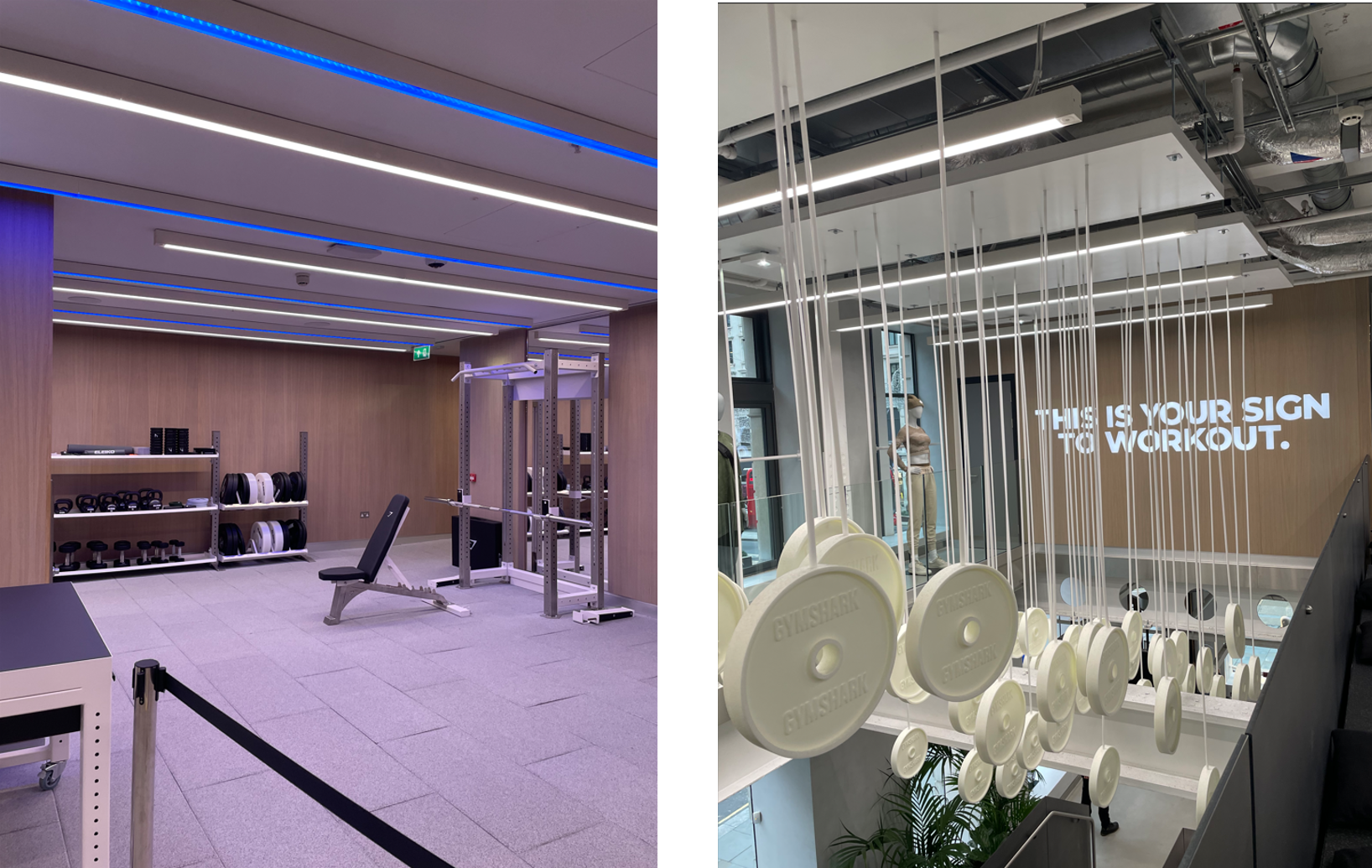 Another great addition to the store is the Sweat Room, which we've shared our thoughts on below. Between 9 Gymshark Pro instructors, there are currently around 30 classes a week on offer and bookable through their app, all of these are totally free and vary across yoga, HIIT, strength and functional fitness.
If all the above features weren't enough, Gymshark has also partnered with Joe & The Juice to offer a tailored grab-and-go food and drink offer. This is located in prime position when you enter through the main store entrance on the corner of Regent Street. Although, we were disappointed there was a distinct lack of any obvious dine-in seating or sofas to enjoy a post-Sweat Room or mid-shopping spree shake.
So what did we think?...
As soon as the news broke out that Gymshark were opening their first physical store we couldn't wait to step foot inside. After what felt like a very long wait we finally got to visit.
Dressed in our finest sporting attire, we booked onto a class in the Sweat Room, grabbing a well deserved post-workout shake, as well as having a good browse around the store (and trying not to spend too much money).
We were a little lost on our arrival to our class (perhaps because we were slightly early?). Unfortunately, there was no one around to greet us from the separate side-entrance (ideal for pre core store-opening hours) and the lack of directional signage made finding the changing rooms an interesting early morning challenge! Once we were in the changing rooms we were very impressed with the facilities on offer. Not only were there fresh towels ready to use (excellent news for anyone who already has a jam-packed bag), but there were also Dyson hair dryers available.
Unsurprisingly, Gymshark has set the bar(bell) high with the quality of classes on offer! We joined a 45-minute strength and conditioning class which certainly raised our heart rates and tested our body strength (the DOMS were real)! The instructor was brilliant - taking time out to help with form whilst ensuring everyone was motivated and challenging themselves. Although the room itself was compact (and a little smaller than expected), it had a large variety of equipment tailored towards all the different classes on offer.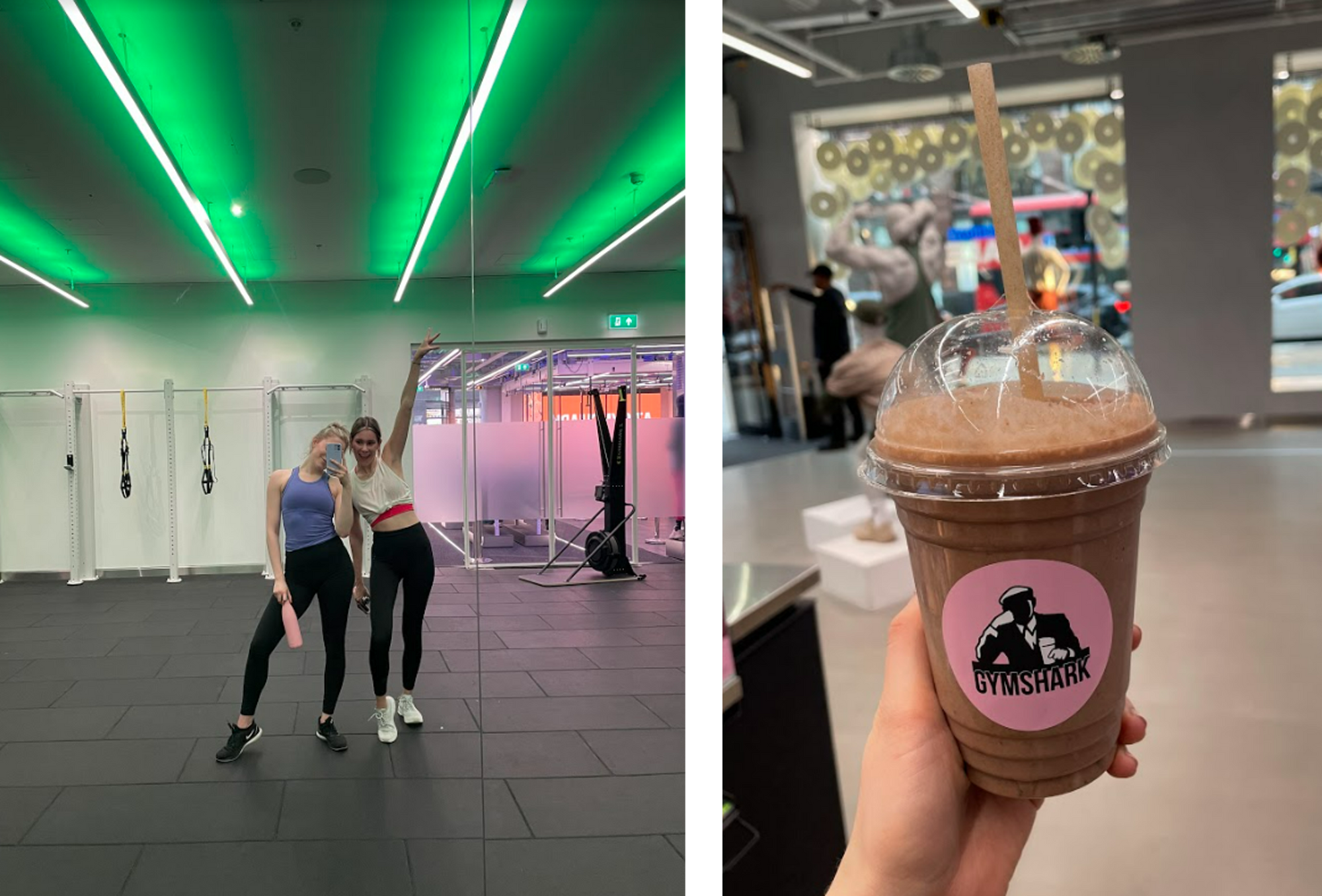 It was great to see the new partnership with Joe & The Juice and obviously we had to try a Gymshark special - The P&B. We did notice that the menu was slightly different to a standard Joe & The Juice - with little focus on food and a greater emphasis on juices and shakes.
Shakes in hand we had a good browse around the store taking everything in - and picking out some key items for our birthday/ christmas lists along the way!
Gymshark's vision was to create an in-store experience, which we definitely feel they have succeeded in. It's safe to say it won't be long before we are back in the Sweat Room!
There is a lot happening on Regent Street right now. Alongside Gymshark, there have been plenty of new entrants to the iconic UK street with retailers quick to snap up prime space. Other recently opened stores include Icelandic outerwear retailer 66°North and Japan's Onitsuka Tiger. It has also seen existing retailers revamping stores (there has been lots of press around H&M's recent reopening) and been the desired location for several new flagship and concept stores; Fast Retailing Company's first joint retail store featuring Uniqlo and Theory opened in Spring this year, and Aesop opened a larger format store in August, which even houses their own facial treatment rooms.
It is a volatile but equally exciting time for retail at the moment, both in the online and physical spheres. The continued investment into Regent Street (especially in a post-pandemic climate), from both well established and fresh newer brands such as Gymshark, suggests there is still a great deal of enthusiasm for bricks-and-mortar retail space.
Whether you're a beginner just starting out on your fitness journey, or a seasoned pro, the Gymshark store (we feel) has done a really great job at creating an experiential, inclusive and exciting environment for the health and fitness and athleisure industries.
Imogen Francis & Rachel Wyles, Location Planning Partners at GEOLYTIX

Related Posts
2nd August 2023

Over two years since the physical presence of Debenhams on our high streets ended, we review 126 units they left vacant. What's become of them?

1st June 2023

While data driven insights are essential, site visits are indispensable for Location Planning. Alison interviewed our Location Planners to find out why we do them and 10 top tips that might help you next time.

20th March 2023

Rossmann - the place to buy your health & beauty, children's toys, cat food, chia seeds, a bottle of Sauvignon Blanc and some boxer shorts...