At GEOLYTIX we seek new and innovative ways to make spatial analytics accessible, exciting and indispensable.  Our customers span the retail, financial, property, leisure and food & beverage industries, across the world.
We build innovative solutions to support our clients to make better decisions combining various forecasting methods and statistical models, GIS and web tools to create bespoke solutions.  We are always looking to do things better.
We have fun and value every member of our team.
Are you our next Location Planning Partner?
About the Role
Our Location Planning Partners understand and can articulate the art and science of location analysis and are passionate about its value in decision making.  They also understand the broader context of our customers businesses and how location analysis fits within that.
From conducting detailed individual site assessments and impact forecasts, through to formulating and landing store location strategies, the role is diverse with each day different to the next.
You will work on projects both in the UK and overseas, collaborating with all our internal teams, from Data Scientists, Location Planners, Software Developers & Data Engineers. You will also be central to the day to day running of projects from overseeing objectives and goals, creating and managing detailed project plans and ensuring regular and efficient communication across all stakeholders.
Our blog a day in the life of a Location Planning Partner highlights a little more on the role.
About You
You have strong analytical skills and can integrate and interpret quantitative and qualitative data to produce practical and commercially relevant outputs
You know your way around a GIS and understand a variety of forecasting techniques
You are passionate about the world of retail, and have a good grasp of geography and demographics
You will be able to interact comfortably with our customers, interpreting their needs and engaging senior management
You can deliver clear, engaging written and verbal presentations and papers, communicating across all types of stakeholders - senior management, in-house location teams, non-location planning customer (eg.IT), modellers, developers etc.
You can maintain an ongoing future relationship with our clients, playing an active role in understanding their developing needs and supporting with new initiatives
You have an eye for detail and enjoy being organised and are pro-active
You are comfortable working with tight deadlines and multi-tasking
You're a people person, building relationships with colleagues and clients as you lead projects
You are based, and have the right to work in the UK
Your qualifications and experience
A university degree – ideally geography, town planning, economics, statistics or similar
Have a strong working knowledge of Microsoft Excel and Powerpoint
Relevant industry sector knowledge ideal but not essential
A strong communicator with the ability to work with colleagues and clients remotely across the globe
Be able to provide evidence of attention to detail, proactivity and managing deadlines
Other stuff
Our offices are in Leeds and Clerkenwell, London. The role can be located in either. Competitive salary. We're a young and growing company who embrace flexible working; full time or part time, family friendly hours and/or working from home days considered
Benefits
Flexible working
City Centre office location
Vitality Health membership
Great maternity and paternity schemes
Cycle to work scheme
Tusker Car Purchase scheme
Bonus scheme
Opportunity for all employees to become a shareholder on our long term incentive plan
Interested?
If you are interested in this role and are looking for your next challenge, please send your CV and cover letter to careers@geolytix.co.uk
No agencies please.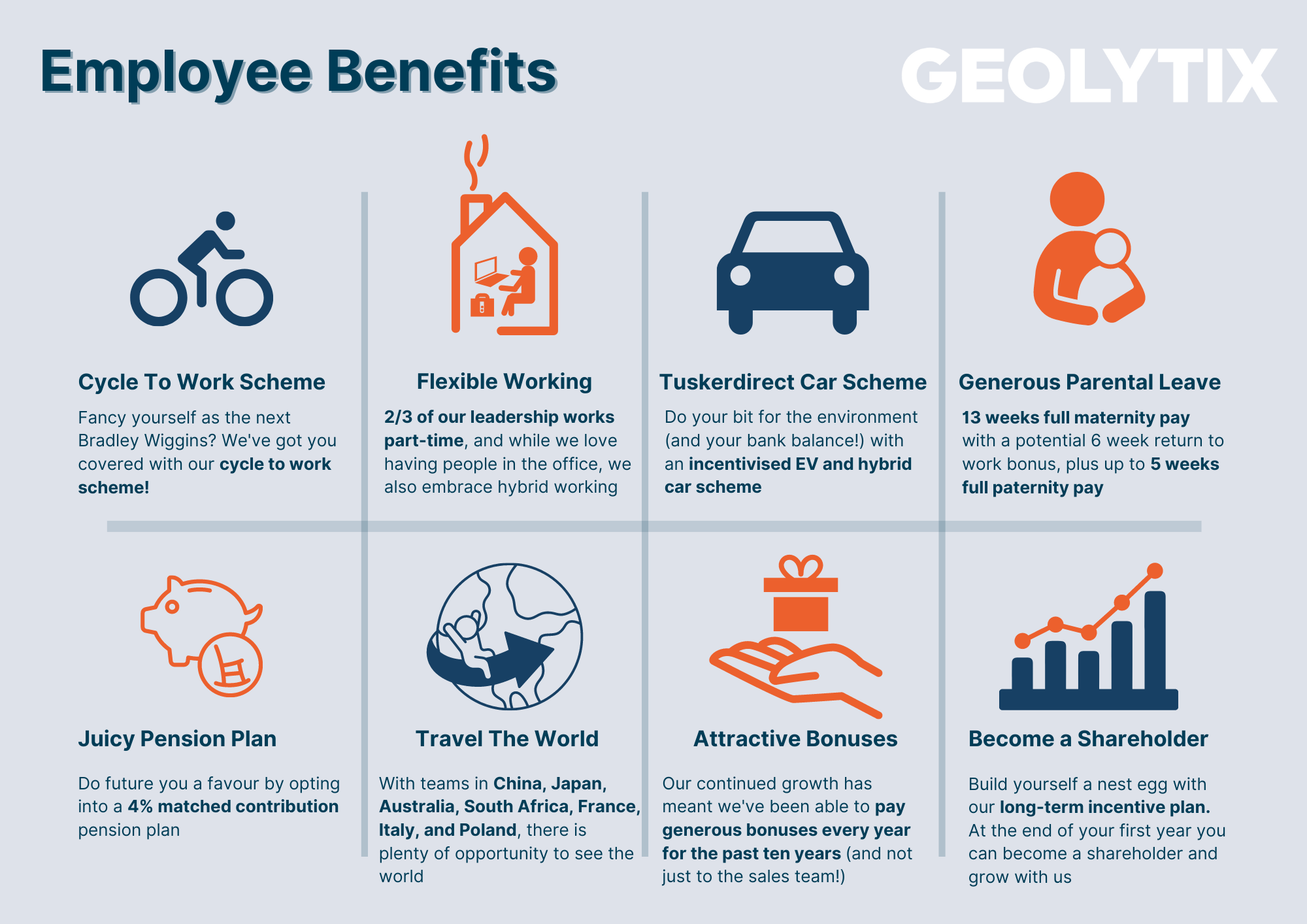 Main Photo by Jason Leung on Unsplash