We're super excited to be launching our new footfall products for GEOLYTIX Retail Places. This blog focusses on Small Area Footfall - a contiguous hex grid showing footfall estimates at micro level within Retail Places. Find out more about our second data product in this installment Footfall Tracker - reporting visitor numbers in Retail Places over time.  
Small Area Footfall blends mobility data with actual survey data, to show how footfall is spread across Retail Places.
The daily footfall counts are estimates for 2022. The counts are provided at 20m hexes and cover over 15,000 Retail Places across the UK. That's footfall numbers for over 2 million locations!
The counts reflect pedestrians passing a location more than once a day (e.g. on the way to and from work), but exclude dwell activity (e.g. a worker in the same location all day or someone who lives over a shop).
Footfall is easily accessible in GEOLYTIX MAPP. Footfall can be integrated with your data in an existing or a new MAPP instance, or used standalone. In MAPP you can see the average daily footfall broken down by hour, by day of week and weekend v. weekday.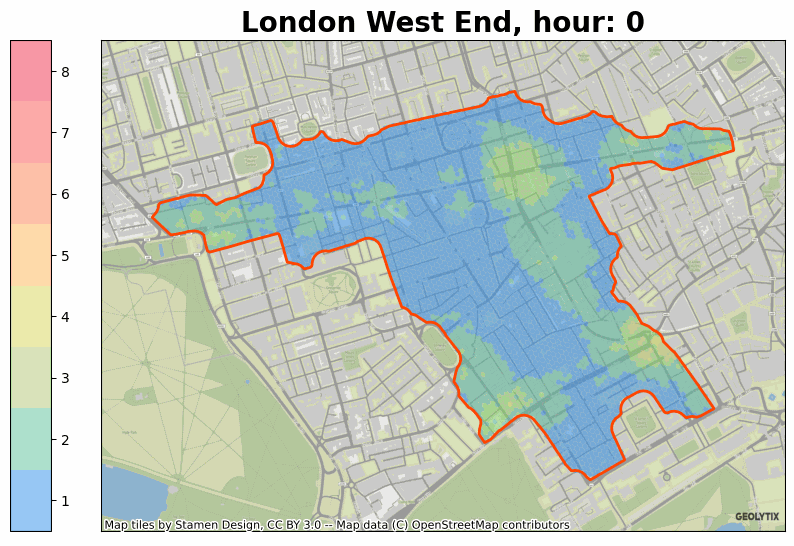 Why we love using Geolytix Footfall
Remove the guesswork from micro site selection. Immediately identify the busiest locations within a Retail Place or compare locations across Retail Places.
When assessing new site locations get a feel for the relative attractiveness of Retail Places, and then choose the best location within them.
For the existing estate use footfall to rate current performance and future potential, quantify transaction conversion, and align format or brand to the flow of pedestrian traffic across the day/evening and week/weekend.  
Our Footfall products leverage off a flexible mobility data core that has been built internally by our Big Data & AI team. This core allows us to build product and also to do bespoke analysis or cuts of data. If you're curious about what goes into our mobility data core and how the data core works then check out our blog - Mobility Data: Behind the Scenes.
At the moment Tracker and Footfall are only available in the UK, but we'll post another blog shortly about our International Business Index – identifying activity hot spots in markets across the world.
We'd be delighted to give you a demo of Footfall and Tracker and talk to you about any specific footfall queries you might have, just get in touch at info@geolytix.com.
Samantha Colebatch, Director at GEOLYTIX
Main Image: Photo by Jonny Gios on Unsplash