What are Banking Retail Points?
Bank and building society branches across the UK provide vital services and are often thought of as key 'anchor' services for the area they serve. In a similar vein to the Grocery Retail Points we release as open data, Banking Retail Points are locations for 27 bank and building society operators across the UK. All current and closed (since 2015) locations for operators with more than 10 branches are included.
Geolytix works on many projects that start with the foundations being bank branch locations, anyone working with data of any kind knows that the results of any processes can only be as good as the quality of data going in in the first instance. Banking Retail Points is a database of bank and building society branches which have been attributed with store name, address including postcode, latitude and longitude, the Geolytix seamless towns and localities, a close date where the branch is now permanently shut, and a distance to the nearest currently trading Post Office. There is no commercial sensitive data included and the data is fully open therefore you can use it in any way you like.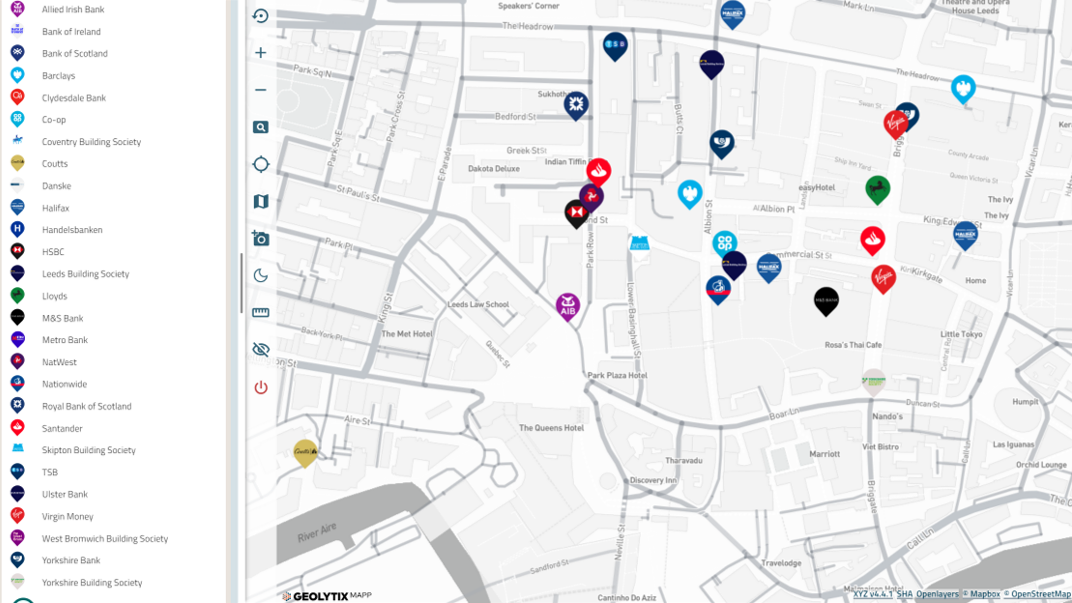 How do we track?
Current branch information is available and online for everyone to access, and closures have been a matter of public record due to the need to publicly consult on any closure, but these data are not collated into a single open database.
First released in September 2021, from the next update we will update every 6 months to capture branch openings and closures that have occurred between releases. Next update will be August 2023. Part of the attraction of this product is that it does not contain commercially sensitive attributes but provides a complete source of publicly available information.
Where can I access the data?
You can download the latest version from here with an accompanying user guide. Geolytix share this as open data allowing for unrestricted use, no licensing requirements and without cost bi-annually. To reiterate this is released as fully open data which you can do with it as you please, of course if you are able to acknowledge us that would be greatly appreciated.
We love seeing and hearing about how the data is being used so please do tag us on Twitter and LinkedIn: @geolytix
Louise Cross, Product Owner at GEOLYTIX
Main Image: Photo by Expect Best